Christian Scholarships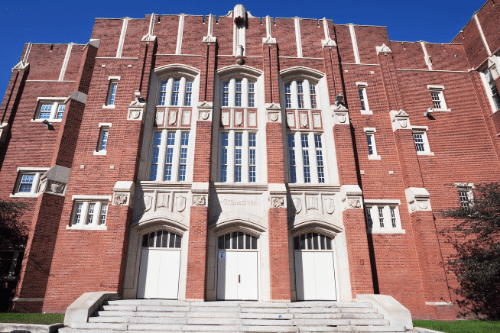 What Are Christian Scholarships?
Christian scholarships are faith-based awards that college students identifying as Christian can apply for. Many scholarships for Christians are offered by private Christian schools, churches, and faith-based organizations. If you're a Christian in the hunt for financial aid, we've got you covered with this scholarship list.
Note: This article provides a basic description for each of the listed scholarships. Please see the scholarship provider's website for full application and eligibility requirements. This is a list to help you get started. This list does not include all scholarships available for Christian students.
Christian Undergraduate Scholarships
Many Christian undergraduate scholarships are provided by private Christian colleges and universities. Like most colleges, these institutions typically offer merit-based scholarships to first-year and transfer students. For first-year students, these scholarships are normally based on your standardized test scores, high school GPA, and sometimes class ranking. If you're a transfer student, your eligibility for merit-based scholarships may depend on the number of college credits you've taken. Some schools will use your college GPA to evaluate your eligibility, whereas others may use your high school GPA and ACT/SAT scores if you haven't taken a sufficient number of college credits.
Furthermore, Christian undergraduates may qualify for more scholarships. There are athletic scholarships, no-essay scholarships, and more that you may be eligible for.
Christian College Scholarship Drawing
Students interested in attending a Christian college can enter a number of scholarship drawings for a chance to win a scholarship for school. The most popular Christian college scholarship drawing is the $2,500 Christian College Scholarship Drawing sponsored by The Christian Connector. In addition to being entered into the scholarship drawing, you can explore a tool for searching and comparing Christian colleges.
Moreover, the $2,500 ScholarshipPoints Scholarship Drawing is open to future or current college students (Christians included). On top of that, ScholarshipPoints has three $1,000 scholarship drawings every month that students can enter.
Scholarships for Private Christian Schools
Abilene Christian University (ACU) is a private university in Texas that offers a variety of scholarships to its students. ACU provides qualified students with scholarships broken down into the following categories:
Learn more by visiting the scholarship website.
The Department of Religion in the College of Arts and Sciences at Baylor University offers several scholarships for students planning to pursue church-related vocational ministry, students dedicated to evangelism, and those demonstrating Christ-centered leadership. Available scholarships include the Hubler Endowed Scholarship, Wedemeyer Memorial Scholarship, Sheri Mooney Memorial Award, Baylor Ministry Scholarship, and BGCT Ministry Scholarship. Read more about these opportunities on the school's website.
Belhaven University, located in Jackson, Mississippi, is a Christian liberal arts college that offers unique scholarships and grants to its students. In addition to the academic and merit scholarships offered by the college, Belhaven "Promises" are student perks that include a free online master's degree, free tuition for a double major's 5th year, a $1,000 scholarship for visiting the campus, and a whopping $12,500 annual scholarship for Mississippi students. To read more about the Belhaven "Promises," please visit the university's website.
Located in Lakewood, Colorado, Colorado Christian University (CCU) offers a variety of scholarships for first-time freshmen and transfer students. Some of the scholarships funded by the school include the World Changers Scholarship, Multicultural Student Scholarship, President's Scholarship, Honors Scholarship, and the unique Scripture Memory Scholarship to name a few. For more information on CCU scholarships, please visit the CCU website.
Greenville University is a private Christian university in Greenville, Illinois with various funding opportunities for its students. The school awards merit-based scholarships, need-based scholarships, departmental scholarships, matching scholarships, and even a legacy scholarship. To read more about Greenville University scholarships, please visit the school's website.
Oklahoma Christian University (OCU) is a private university in Oklahoma City, Oklahoma. The university offers numerous merit-based scholarships, scholarships based on your field of study, performance scholarships, and more. Visit the OCU website for more scholarship information.
Oral Roberts University (ORU) is a private liberal arts university in Tulsa, Oklahoma that offers many scholarships to qualifying students based on their financial need, demonstrated leadership, and academic ability. Moreover, the school awards Whole Leader Scholarships, which are scholarships for students who demonstrate a Christian worldview, a commitment to community service, academic success, and more. To read more about ORU's scholarship opportunities, please visit the scholarship website.
Texas Christian University, more commonly known as TCU, offers eligible international students academic scholarships and need-based aid. Students can earn academic scholarships as first-year or transfer students. International students should also complete the CSS Profile™ to be evaluated for institutional-based aid.
Domestic students at TCU are eligible for academic scholarships and need-based aid as well. In addition to completing the CSS Profile, domestic students must file the Free Application for Federal Student Aid (FAFSA). If you're a non-citizen but still a resident of Texas, you can file the Texas Application for State Financial Aid (TASFA) instead of the FAFSA to be evaluated for institutional-based aid.
Christian Scholarships in Georgia
Over 10,000 Christian women attending participating institutions in Alabama, Florida, Georgia, Louisiana, Mississippi, North Carolina, South Carolina, Tennessee and Virginia, are awarded need-based scholarships through the Lettie Pate Whitehead Foundation. These awards typically go to women obtaining degrees in medicine, nursing, and allied health. Scholarships are awarded at the institutional level, so interested students should contact their schools on how they can apply. Visit the scholarship website for more information.
Covenant College in Lookout Mountain, Georgia boasts an impressive 13:1 student-faculty ratio and a variety of merit-based and competitive-based scholarships. Each student's application for admission will determine what merit scholarships they can receive. After submitting an application for admission, students interested in earning a competitive scholarship can apply for any of those if they meet requirements. Check out the school's website for more information.
Additionally, some private Christian colleges in Georgia that offer scholarships include:
Christian Leadership Scholarships
The Seaver College at Pepperdine University in Malibu, California, offers a $5,000 Christian Leadership Award to students who are members of a Church of Christ congregation. Applicants will also need a recommendation letter from a church leader within their congregation. For more details and information on how to apply, head over to the scholarship website.
The Dr. James Earl Massey Intercultural Leadership Scholarship is available to first-time freshmen students at Anderson University to help diversify the student leadership team. Academically eminent students with experience in leadership and cultural reconciliation may have a shot at this $2,000 to $4,000 scholarship. Visit the scholarship website for more information.
More Christian Scholarships
The Christian Community Credit Union's "Scholarships for Success" Program awards scholarships to Christian college students who have a checking account with the credit union. Undergraduate and graduate students can apply for this scholarship. Visit the CCCU website for more information.
The University of Texas, Austin, offers the Christians in Journalism Scholarship to students pursuing a journalism degree and have a GPA of at least 3.0. This scholarship honors Mary Susan Lewis, a journalism graduate who passed away from cancer. The scholarship is a $1,000 opportunity, and eligible students will have to answer supplemental questions regarding the scholarship, write an essay on their Christian journey, and provide recommendation letters. Visit the scholarship website for more details on the scholarship and how to apply.
The David W. Self Scholarship is for United Methodist Church members with financial need who are starting their first year of undergraduate studies at an accredited college or university and pursuing a career that is "church-related." Please visit the scholarship website for more information on the David W. Self Scholarship.
The Evangelical Press Association awards two scholarships to students majoring or minoring in communications or journalism at an accredited college or university in the U.S. or Canada. The Jerry Jenkins Scholarship is a $2,000 award, and the Douglas J. Trouten Memorial Scholarship awards range from $1,000 to $2,000. Students must have a GPA of at least 3.0 on a 4.0 scale. Though preferred, students are not required to have an interest in Christian journalism. For more scholarship details, please visit the scholarship website.
Offered by Simmons and Fletcher, P.C., the Robert S. Simmons Christian Studies Scholarship is a $1,000 award available to students planning to attend or currently enrolled in a Christian college or university in the fall. The second place essay will also be awarded a $500 scholarship. Please visit the firm's website for more information on this scholarship.
Are you interested in more scholarship opportunities?
ScholarshipPoints is not only your place for scholarship lists like this one. When you sign up as a member, you are automatically entered into our $2,500 scholarship drawing! And who knows? You could be the next winner.
More Scholarship Lists
Win a $2,500 Scholarship!
Join ScholarshipPoints today and be automatically entered into our monthly $2,500 giveaway.