What Is a Scholarship?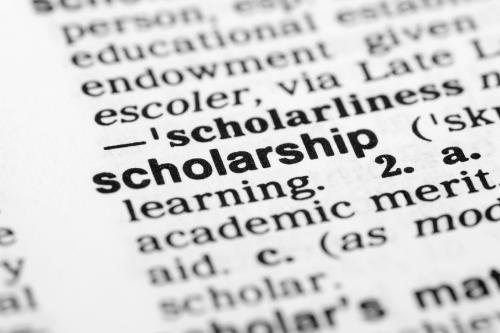 A scholarship is a form of gift aid for college. That is, money you receive to help with tuition, books, and related expenses that generally does not need to be paid back. Most scholarships are one-time payments, while others are renewable and may provide aid throughout college.
How Are Scholarships Awarded?
The way a scholarship is awarded will depend on the scholarship provider and the intent. Some scholarships are offered to those who have financial need while others could be merit- or skill-based.
Scholarships awarded by your college, like a scholarship based on your high standardized test scores or GPA, may be automatic or your school may require you to complete the FAFSA and/or an application for school scholarships to be considered.
Private scholarship providers will likely require you to specifically apply. An application can be as simple as a form (like applying for the ScholarshipPoints 10K scholarship giveaway) or may include an essay and interview component.
Do Scholarships Have to Be Paid Back?
Generally, no. Scholarships and grants are considered gift aid and generally do not need to be repaid if you maintain eligibility for your scholarship and don't withdraw from your program.
What Is the Difference between a Grant and a Scholarship?
Grants and scholarships are both forms of gift aid, i.e., money for college that generally does not need to be repaid.
Most grants are awarded based on need such as federal Pell grants. You may also encounter grants at the state level specifically for lower income families, such as Cal Grants and NY TAP Grants. To receive a Pell grant (and many state grants), you must first file the FAFSA. The FAFSA is used to determine eligibility for federal grants as well as some state and college need-based aid.
Scholarships on the other hand may be need-based, merit-based, or drawing-based, such as the ScholarshipPoints three $1,000 monthly scholarships and the quarterly $10,000 scholarship. Most scholarships require you to specifically apply to be eligible. Scholarships can be offered by schools, states, and private organizations or programs.
Types of Scholarships
There are several types of scholarships which are targeted to certain students. Two of the most common types include need-based and merit-based. But there could be other scholarships which are offered based on community service work, athletic ability, specific skill or ability (like music, art, etc.); your personal background (which could be based on your gender, sexual identity, race or ethnicity, etc.); or affiliation with a certain company.
You may also see scholarships defined by:
Source: School, state, or private scholarship providers
Amount: Full ride, full tuition, partial, or for a specific amount
What Is a Merit Scholarship?
A merit scholarship, also called a merit-based scholarship, is an award that is given based on something such as standardized test scores or GPA. Many merit scholarships must be directly applied for, though some may be awarded automatically by the college you are attending. Merit scholarships can come from your school as well as outside sources.
Some schools may offer partial, full tuition, or full ride scholarships for students who are strong merit candidates. If you are awarded a merit based scholarship there could be certain requirements that you may have to meet to remain eligible for the scholarship.
What Is a Need-Based Scholarship?
A need-based scholarship is a scholarship that is reserved for students with demonstrated financial need. Many colleges may offer need-based scholarships to students who need assistance paying for college. They make the determination of need by reviewing the information provided on the FAFSA, so be sure to complete the FAFSA every year. Need-based scholarships are often awarded on a first-come, first-served basis, so file the FAFSA early (the FAFSA releases on Oct 1 each year) for the best chances of receiving need-based scholarships if you qualify.
Furthermore, it would be unwise to solely rely on your FAFSA for need-based scholarships, make sure to read your school's financial aid website to see if other applications are required.
What Is a Private Scholarship?
A private scholarship is a scholarship awarded by an individual, company or organization rather than a college or university. The scholarship is typically tied to the organization in some way. For example, you or a family member may need to be involved in the organization to qualify, or the scholarship may be reserved for those majoring in a certain area of study that reflect the organization, company or individual and their mission. Typically, there will be eligibility requirements that go beyond grades for private scholarships.
What Is a Full Ride Scholarship?
A full-ride scholarship is a scholarship that covers the full cost of tuition, fees, books, room and board, and possibly associated costs of living. Basically, it covers all of the costs associated with attending college. This is not the same as a full-tuition scholarship which covers the full cost of tuition, but may not cover books, fees, and room and board. In addition to searching for full-ride scholarships, you can try searching for "total-cost scholarships" to find awards in this category.
Many full-ride scholarships are awarded to students who may demonstrate exceptional merit or skill. You may have heard of athletes, dancers, or musicians who have been offered full-ride or full-tuition scholarships.
Are You Looking for Scholarships to Apply For?
Now that you know what a scholarship is, you should check out our scholarship lists below. If you fall into any of these categories, you might find scholarships you can apply for.
Win a $10,000 Scholarship!
Join ScholarshipPoints today and be automatically entered into our quarterly $10,000 giveaway.