What is FAFSA?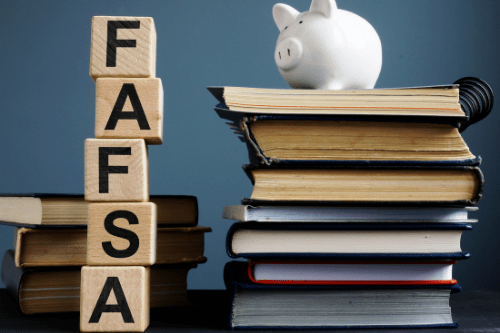 The FAFSA is the Free Application for Federal Student Aid. This is the form you need to file in order to be considered for federal financial aid for college such as Pell Grants, subsidized and unsubsidized Direct Student Loans, and PLUS Loans.
Because colleges and states may also use the FAFSA to award aid, we recommend filing, even if you think you will not qualify for federal grants or student loans. Why bother? Well colleges and states have different criteria and income thresholds for awarding financial aid funds.
How to File FAFSA
The easiest way to file the FAFSA is to file online or through the MyStudentAid app offered by the U.S. Department of Education. You can also file a paper version of the FAFSA via the United States Postal Service.
We recommend filing online or through the app as your FAFSA will be processed faster and making any needed changes to your FAFSA will be easier.
Before you are able to file online, you will need to create an FSA ID. If you are a dependent student (most students under the age of 24 are), the parent whose information you are using on the FAFSA will also need their own FSA ID.
When to File FAFSA
The FAFSA opens every year on October 1 to be filed for the following school year. So, if you are a high school senior, you will file the FAFSA in the fall of your senior year. Be sure to file the FAFSA every year on or after October 1, for each year you are attending college.
Who Should File FAFSA
All college-bound graduating seniors, whether attending a two or four-year school, as well as all returning college students. The FAFSA must be filed each fall to apply for aid for the following school year. Graduate students will also want to file the FAFSA to apply for federal student aid.
If you are a student looking to earn a technical certificate, or you're attending a non-degree program, check out your school's website or talk to financial aid to see if you should also complete the FAFSA.
When is FAFSA Due
You may file the FAFSA at any time, but the sooner you file it, the better. That's because some aid that is awarded is first-come, first-served or has strict deadlines. States and colleges may also look at the FAFSA to award aid, and they may have earlier deadlines than the deadline for our school. This article offers more in-depth detail on FAFSA deadlines.
To learn more about FAFSA filing, check out the Edvisors FAFSA Guide, which covers all of the details you need to know for before, during, and after filing.
Win a $2,500 Scholarship!
Join ScholarshipPoints today and be automatically entered into our monthly $2,500 giveaway.