5 Ways to Get Ahead for Fall Semester
Summer is here at last! Spring semester is over, and we finally get a well-deserved chance to recover after a long school year. Summer is the prime time to relax and unwind, but all of that free time can make it easy for us to forget what we just learned over the past semester or two. I know, nobody wants to think about school in the summer, but it can be a great time to get ahead for fall. I'll show you five ways to keep that information fresh in your mind, and make you more prepared for the upcoming semester.
1. Summer Classes
Hear me out! I know the last thing you want to do during the summer is take more classes, but the thing about summer classes is that they can help you graduate sooner, and who doesn't want to do that? Another fact about summer classes is that it can speed along classes that require two or more parts (like Chemistry I and II, or Calculus I, II, and III). If you have some free hours in your days, and want to get ahead on your classes, consider taking a couple of summer classes either on campus or online.
2. Volunteer
Volunteering is great because it's an action that benefits others while making you feel good too. Another bonus about volunteering is that it can be a great resume builder, and an opportunity to network with others who might be able to help you find employment after graduating. Volunteer opportunities can be found through your local food bank, hospital, or recreation center. If you want to volunteer and travel this summer, consider volunteering abroad; you can experience a different country's culture while making a difference!
3. Find a summer job
A little extra money is never a bad thing. A summer job can cover the funds needed for next semester's tuition, textbooks, and those dreaded surprise expenses. You'll also have more money to spend during the weekends, and maybe even be able to afford a quick trip before school starts back up. Working during the summer can be a great use of your time because you'll be making money and adding job experience to your resume.
4. Make (or add to) your plan
If you're just starting your college career, you might be feeling a little lost or confused about your next steps. Now would be a great time to sit down and make a plan for the future. Let me remind you that it's totally okay to not have a clear idea for what you want to do in college, but you should probably have a general outline for which classes you need, and how many credits you should take. For those students who are further in their college career, reassess your plan and refine it. Maybe you can add an internship, community service, or start prepping for the GRE. These are all things that will look great to future employers or graduate programs.
5. Make some "me" time
While it's great to keep busy during the summer, it's also important to carve out downtime to focus on yourself. After all, it's more likely that you'll start the fall semester on the right foot if you're feeling refreshed. Make sure to catch up on your sleep and get back on track with healthy eating habits and exercise. Your body will thank you, and you'll definitely show up to school more focused and ready to start the new year!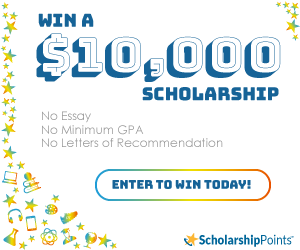 Win a $2,500 Scholarship!
Join ScholarshipPoints today and be automatically entered into our monthly $2,500 giveaway.