How to Get a Job With No Experience
Colleges are really good at training students to be skilled in a single area of study — but more and more employers are saying that isn't what they're looking for in job candidates.
In a survey conducted by the Chronicle of Higher Education, employers reported that the most important aspect of a candidate is past experience.
But with advisors and professors stressing the importance of a full course load and a high GPA, it can be difficult for college students to find the time to build up their resumes with experience. Don't fret if this applies to you: there are ways to land the job anyway, even without an arsenal of internships.
1. Do your research.
If you know the industry inside and out, your future employer will hardly be able to tell that you don't have explicit work experience. Go beyond what you learn in class and read up on the ins and outs of your industry. Find out what goes on behind the scenes of the businesses you want to work for, so you're prepared, despite not actually having experience on the job. Your future employers will be impressed with your knowledge, which earns you major points at the interview!
2. Emphasize other parts of your resume.
To get to the internship phase, you need to have a killer resume. This can be difficult without a hearty experience section, but there are workarounds. Be descriptive about your skills, and explain in great detail any experience you do have — even if you think it is insignificant. Be confident in what you have accomplished and can do and try not to focus on your lack of experience, and your future employers will do the same.

3. Network, network, network!
Most people agree that networking is one of the best ways to expose yourself to an industry. During college, take any opportunity you can get to meet people and form relationships with them. If you can give them a good first impression, it will stick, and they may be willing to give you a shot when the time comes.
4. Accept an entry-level position.
Since you don't have experience, you may not be able to be as picky about your first job. If you are offered a position in your industry, even if you think it is "below" you, take it, for now. For one, it can help you build up the experience section of your resume with real, on-the-job practice, and it can be a great networking tool. You can only go up from entry-level, and everyone knows it's easier to find a job when you have one!
5. Get creative with what you have done.
Have you volunteered? Joined a campus club? Shadowed a professional in your industry? These can still count as experience! Talk about what you accomplished in these situations — they relate to the job you're working for more than you think. Emphasize the leadership, organization, and management skills that you learned, and relate it to what you anticipate doing on the job. Your abilities will transfer to almost any situation; you just have to be creative in selling it to your future employer.
Getting a job without experience can be more difficult, but it isn't impossible. If you're creative, open-minded, and knowledgeable, you'll find a position that is perfect for you, and will jumpstart your career in the industry you're passionate about.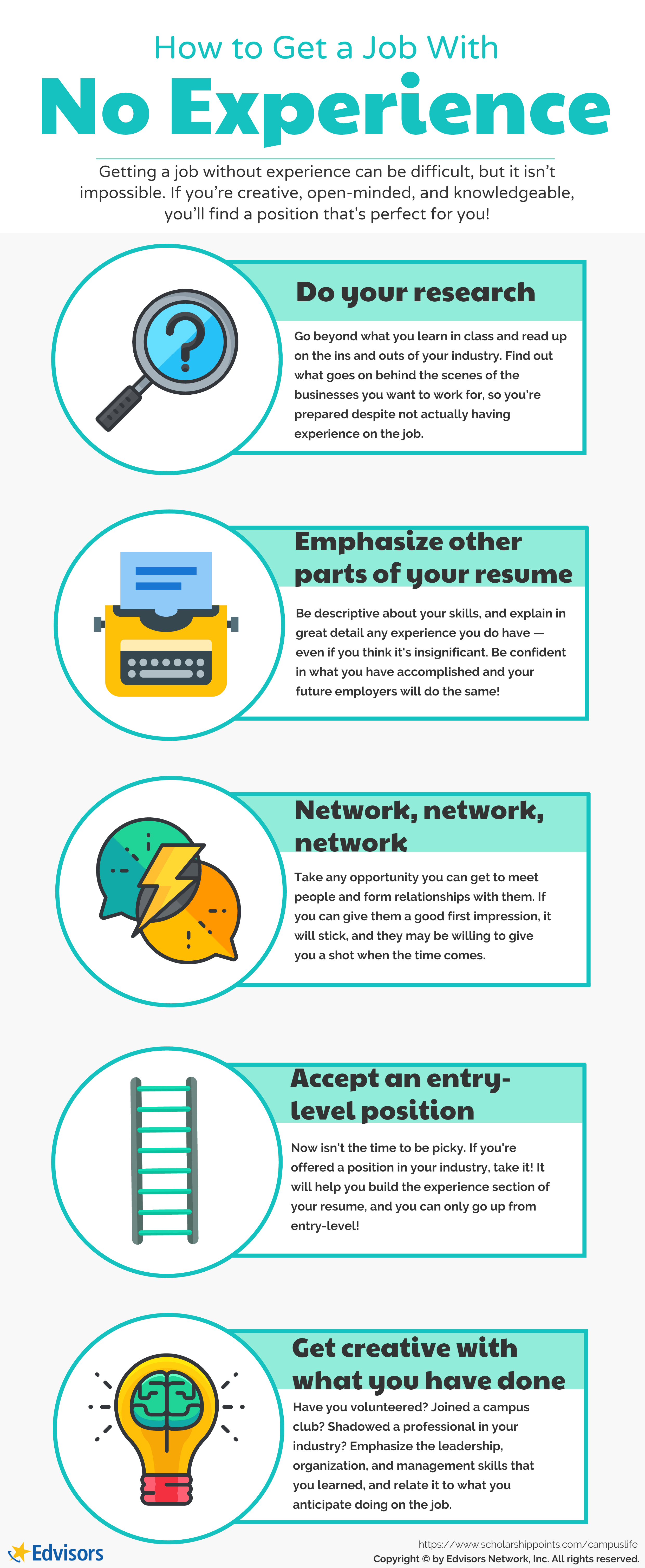 Win a $2,500 Scholarship!
Join ScholarshipPoints today and be automatically entered into our monthly $2,500 giveaway.
We think you'd also like...