5 Vacations You Need to Take This Summer
Summer is here, and it's time to plan a vacation! Though the heat can be a menace, depending on where you live, summer brings a lot of fun activities for everyone to enjoy. Who doesn't enjoy a dip in the pool on a hot day? Or a relaxing getaway?
Speaking of getting away, here are a few vacation ideas you should consider taking this summer.
Amusement Parks
Rollercoasters scream summer, and most importantly, they scream fun! Amusement parks are a wonderful way to enjoy the summer with friends. My favorite place to visit is Six Flags Over Texas. They have several exciting rides that everyone can enjoy (even rides for your friends who are afraid of heights). Do some research and find out what's close to your town, or take a road trip to a park in a nearby state.
Water Parks
A lot of amusement parks have water rides, but these don't compare to a full-on water park. Water parks are a perfect way to cool down on a hot day. And if you hate standing in line, most have wave pools or lazy rivers where you can just chill. If you've never been in a lazy river, you owe it to yourself to give it a try. Don't forget the essentials!
Road Trips
Road trips are always exciting and bring new things into your life. You can plan to go through states you've never been to before. Lodge in cheap hotels and keep on the move, enjoying as much of each state as you can. Just be sure to have enough gas money for the entire trip - the last thing you want is to get stranded in the middle of nowhere!
Pro tip: bringing your own pillow makes cheap motel feel less cheap, and if you really want to feel nostalgic, buy a disposable camera to take pics. You and your friends can have a blast looking through them when you get the film developed.
Scuba Diving
Obviously, this one is for swimmers only. Scuba diving may seem extreme to some people, but you get to explore the ocean and see all the beautiful creatures that live in it. It's truly an incredible experience. Even if you don't live by the water, most cities have pools where you can get certified. If you live by a large body of water, now is your chance to experience it in a whole new way. If scuba isn't your thing, check out snorkeling or SNUBA diving.
Exotic Locations
The ultimate summer vacation would be to visit another country. You can go on a safari in Africa or surf in New Zealand. Travelling to another country allows you to see and learn about a different culture. Just be cautious and make sure you research the country you want to visit and plan accordingly. This sounds expensive, but there are plenty of deals out there online (especially for students!). Try searching in advance on websites like SkyScanner and Student Universe to find the best deals. Remember, some countries may require you to get additional vaccinations so give yourself a few weeks lead time!
The options are endless when it comes to planning a vacation for the summer. It doesn't have to be a flashy trip to the Hamptons or a villa in Paris. You have the luxury to plan the vacation you want, whether that be travelling to a far-off location or exploring cities in your own state!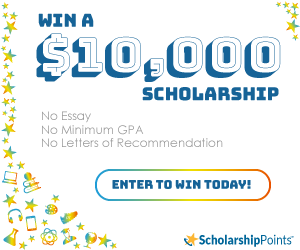 Win a $2,500 Scholarship!
Join ScholarshipPoints today and be automatically entered into our monthly $2,500 giveaway.