5 Inspiring Female TV and Film Characters in STEM
Ellie Sattler – Jurassic Park
If you've ever seen Jurassic Park, Ellie Sattler is one of the coolest, most badass women of all time. She's intelligent, strong-willed, and she absolutely geeks out about plants and dinosaurs. What woman wouldn't want to grow up to live among dinos like Ellie? I know I would.
Bernadette Rostenkowski-Wolowitz - The Big Bang Theory
To be honest, I'm actually not a huge fan of The Big Bang Theory, but from what I've seen, Bernadette seems like an awesomely talented and intelligent woman. She also isn't presented as a total weirdo (like other characters on the show), so she is like a fairly normal human being who also has a PHD! That's cool!
Mindy Lahiri – The Mindy Project
I adore Mindy Kaling in everything that she does. I've been a long-time fan of The Office, and was hype when she started a new show. The Mindy Project presented a strong, independent, intelligent woman who was just exploring the up's and down's of life and romance. She is hysterical, witty, and not to mention, an OBGYN that I would actually love to see once a year.
Katherine Johnson – Hidden Figures
Have you seen this movie?! If you answered no to this question, you need to stop reading this and go find a way to watch this right now. I laughed, cried, and left the theater feeling empowered as a woman. Katherine is the main character, and she starts off working as a "computer" for NASA, but then she casually is such a badass that she ends up calculating flight trajectories for Project Mercury and is also the best employee on the project for calculating analytic geometry (which I couldn't even begin to understand). Oh, also did I mention that she is black and just bursts so many rich, white men's bubbles during this film? Yeah, she rocks.
Hermione Granger – The Harry Potter series
Okay, this one is kind of a stretch because she didn't technically go into STEM after her time at Hogwarts, but she is easily one of the most badass women in fiction. She is top of her class, a leader in every way, a social justice advocate, and more. She also used time travel to be able to take double the number of classes as everyone else! (Like, who does that?) She ends up going through several employment positions in the Ministry of Magic – first working for house elf rights through the Department for the Regulation and Control of Magical Creatures, then as the Deputy Head of the Department of Magical Law Enforcement, and finally was the freaking Minister for Magic. She also was an awesome mother and wife, so there's that too.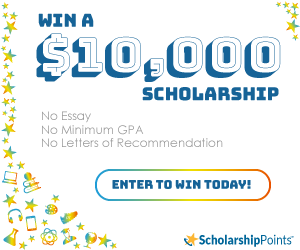 Win a $2,500 Scholarship!
Join ScholarshipPoints today and be automatically entered into our monthly $2,500 giveaway.