11 Tips to Survive Music Festival Season
Flower crowns, neon leggings, and bad judgement all around — yep, you guessed it! Music festival season is here. Whether you're counting down the days until Coachella, Bonnaroo, Lolla, or anything in between, even the most experienced festival goers need a little help to make their weekend Insta-worthy. So, once you've finished agonizing over your crop top selection, keep these eleven tips in mind:
1. Invest in a portable phone charger.
Trust me on this one. Not being able to find your friends (or worse, not being able to Snapchat your favorite band play) makes it instantly worth it. But remember…
Buy for $16.99
Buy for $19.99
2. You'll inevitably lose service at some point, so don't rely on your phone for everything.
Use the buddy system, and designate a meeting spot to congregate at if your group gets separated. It will happen, and you don't want to be lost (literally) when it does.
3. Go for a cross-body bag.
Comfort and function: the only two things you'll care about when you're battling through a crowd, tired, in sweltering heat, and possibly drunk. Bonus: you don't have to sacrifice your style, and they're tougher for pickpockets to get into than fanny packs or backpacks. It's a win-win.
Buy for $17.95
Buy for $24.99
4. Bring snacks.
No one likes the hangry friend. You'll need fuel at one point or another, so keep something small with you — like a granola bar or a bag of chips — for when you can't last one more minute in a food truck line. (Ahem, munchies.)
5. Girls — don't wear a romper.
You may think it's cute now — and it is — but do you really want to end up naked in a port-a-potty? No thanks.
6. Two words: water and sunscreen.
What isn't cute: dehydration and lobster-red skin. These two things will be lifesavers at any festival you may find yourself at.
Buy for $6.24
Buy for $8.99
7. Bring sunglasses.
Just not your $300 designer ones. Grab a cheap pair online or at Forever 21 beforehand, because there's a pretty good chance you'll lose (or break) them by the time you head home.
Buy for $9.99
Buy for $12.99
8. Pack a rain poncho.
They may not be the most fashionable, but it's better to be safe than sorry if it rains on your parade. And while you're at it, snag a waterproof pouch (or even a plastic bag) to put your phone in for protection.
Buy for $8.68
Buy for $24.99
9. Download the music festival's app.
Stay updated on festival news, check out maps, create your custom schedule, and more. It's like VIP access without the VIP ticket price.
10. Have a game plan.
Map out your festival weekend in advance. Figure out where you're staying (and the prime places to camp if that's your thing), who wants to see what, when, where the best port-a-potties are (is there even such a thing as the best port-a-potty?), and be sure to locate the first-aid station and information booth. You don't have to plan your schedule down to the minute, but at least have some idea of what you're getting into.
11. And, most importantly...
Stay safe, don't do anything (too) dumb, and have fun, groupies!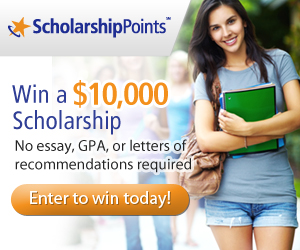 Win a $2,500 Scholarship!
Join ScholarshipPoints today and be automatically entered into our monthly $2,500 giveaway.