How to Get Scholarships for College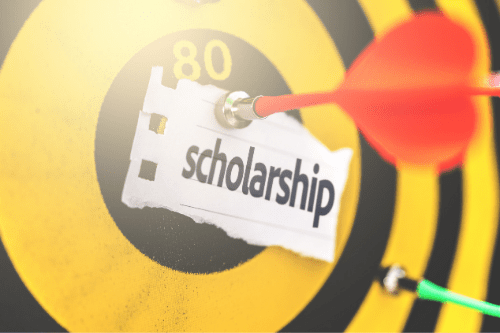 Getting Scholarships for College
Certain scholarships may be automatically awarded from your college of choice based on a variety of factors. Most commonly, scholarships are awarded based on financial need or standardized test scores, while other scholarships require students to fill out an application for consideration. However, there's other ways to get scholarships for college as well. You can enhance your chances for scholarship opportunities by getting involved in your community and going above and beyond the minimum application requirements. Other scholarships are merit-based and require a strong GPA, other scholarships may require an essay. You may even find scholarships that require a strong GPA and an essay, but these ARE NOT the only opportunities available.
There are also scholarship sweepstakes sites that don't require a strong GPA or essay. ScholarshipPoints gives away three monthly scholarships worth $1,000 each and a $2,500 scholarship via random drawings. Be sure to join for your chance to win. Niche is another website with a no essay sweepstakes scholarship that's open to high school and college students. You can apply once each month.
There are plenty of opportunities out there so get creative with it! Utilize scholarship search engines, like our site, studentscholarshipsearch.com, think local and ask your guidance counselor about scholarships in your own area and community, and apply to every scholarship you're eligible for. There are endless opportunities available to students across the nation. Take full advantage of them!
Where to Apply for Scholarships
First things first, apply early and apply often! The only way to get scholarships is to apply for them. Second, each scholarship's application requirements will be different. Once you've located scholarships you are eligible for, take note of the application requirements. These requirements will tell you what you need, and where to submit to complete your application. Some may allow you to apply online, some may require you to apply by mail, etc.
What Scholarships Can I Apply For?
There are tons of scholarship opportunities out there, but it can be hard to know where to start your search. Luckily, there are plenty organizations, companies, and even restaurants that help students create a pathway to higher education by offering various grant and scholarship opportunities for different talents, interests, and backgrounds. Believe it or not there are millions of dollars in unclaimed scholarships that students didn't apply for. This is another reason we stress applying for all opportunities you are eligible for. You could be the one student who claims a lesser-known scholarship that could provide you sufficient funds for your college career!
In addition to scholarship search engines, our scholarship lists are a great place to look for opportunities. Check out lists like:
• Community College Scholarships
• Scholarships for Women
• Scholarships for Hispanics
• Scholarships for Students with Autism
• Scholarships for African Americans
And more in the ScholarTips section of our website.
With the right planning and resources, you have the potential to find an opportunity that will allow you to focus less on your financial aid and more on your future! Start out by narrowing down your talents and interests. Are you an athlete? Do you plan to study STEM? Are you a high achiever with a history of community service and leadership? Scholarships exist for pretty much every talent, sport, skill, and hobby. Utilize scholarship search engines mentioned above to help you filter through opportunities and find those that apply to you.
When to Apply for Scholarships
On time, every time! If you miss a deadline for your scholarship application, yours will be sent to the bottom of the pile or disqualify you completely. Some scholarships are quick and easy to apply for. Others may require a bit more time or work during the application process. Note and meet every deadline! Missing a critical deadline could mean leaving money on the table. In some cases, you may have to apply before a deadline because some applications close after a certain number of applicants have applied.
How Do You Apply for Scholarships?
The thought of actually sitting down and beginning your applications for scholarships can seem daunting. Don't let it be! Remind yourself that you're doing yourself a huge favor taking the time to potentially save thousands on tuition. Applying for some scholarships can be extremely easy, others may take a bit more time, but once again, don't let it deter you.
Dedicate a day or two to sitting down with a parent or friend and spend a few hours applying to as many scholarships as you can. Carving out time to apply is crucial to submitting a strong application for competitive scholarships. If you're short on time, sign up for ScholarshipPoints and be automatically entered in our next big giveaway. You can also quickly and easily earn more points to enter into our monthly and quarterly giveaways.
Scholarship Deadlines
Scholarship deadlines vary but are often in the fall or the spring. Once you've gathered the list of scholarships you want to apply for, be sure to note the deadline along with the requirements. Hitting deadlines for scholarship opportunities is extremely important for giving yourself the best chance at earning free cash for college! Be sure to write them down on your calendar or set reminders in your phone to make sure you apply with all of the necessary information, documentation, and essay requirements when needed.
Can You Apply for Scholarships While in College?
Yes! There are many scholarship opportunities for students who are already in college. You can use an online database, such as our site
StudentScholarshipSearch.com
to find scholarships that you are eligible for. For current college students, other great resources include the financial aid office as well as the department for your major. Colleges often have institutional scholarships that only existing college students are eligible for.