I'm a White, Middle-Class Woman, and This is Why I Protest
Protesting has been a long-standing way for individuals and groups to share their views on laws, politics, society, government, etc. The first amendment to the U.S. Constitution in the Bill of Rights states that, "Congress shall make no law respecting an establishment of religion, or prohibiting the free exercise thereof; or abridging the freedom of speech, or of the press; or the right of the people peaceably to assemble, and to petition the Government for a redress of grievances." The right to protest is at the heart of this amendment, and I truly believe that it is an important part of our country's democracy.
I studied a lot about protests, revolutions, and rallies with my major in Psychology and a minor in Community Action and Social Change under the #1 social work school in the country. We are a very activist-minded campus, and I have had the opportunity to be a part of many protests, marches, and rallies during my time as a student at the University of Michigan.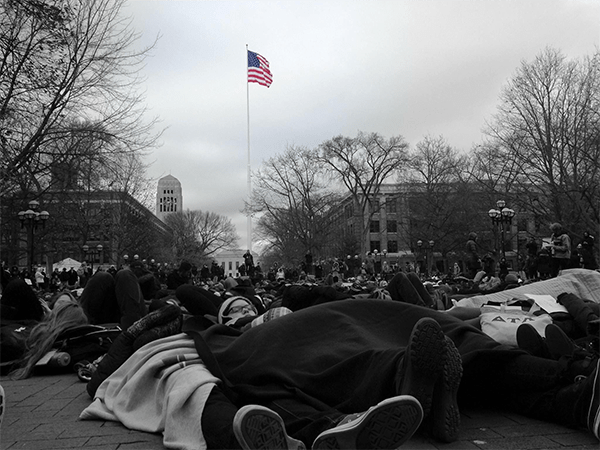 My sophomore year, I was in an introductory class about social work. In the class, we mainly focused on how to engage in activism in our school, community, and even on a national and global scale. At the beginning of the semester that year, Michael Brown was shot by a police officer in Ferguson, MO. Rioting and protests erupted from the St. Louis suburb, and my classmates engaged in the only way we could from states away - we protested.
Our campus (and campuses everywhere) pulled together a protest that became known around the country as a "die-in." Students marched together, gathered in the middle of campus and laid down - still and silent - for four and a half minutes. The number represented the four and a half hours that 18-year-old Michael Brown's body laid in the Ferguson street that August day.
This is just one example of the protests that surround large-scale events like this one. There have been protests galore following November's election - for science, LGBTQ rights, women's rights, the environment, and so many more. We protest to identify ourselves with like-minded people. We protest to come together and fight for what we believe in, not alone, but en masse. We protest to stand up and be the voice for those that do not have one. I protest because the privilege of my race, level of education, socioeconomic status, and sexual orientation place me in a position of power, and it is my responsibility to use this privilege to speak for those who cannot.

Win a $2,500 Scholarship!
Join ScholarshipPoints today and be automatically entered into our monthly $2,500 giveaway.