Should You Declare a Major on Your College Applications?
In many cases, you have the option of listing an intended major on your college applications, or electing to go in as an "undecided." Both have distinct benefits, so it's important to examine your own unique situation before submitting your admission application.
You should indicate a major if...
1. You know exactly what you want to do.
Indicating a major shows your school that you're committed to that subject from the start, which can earn you points when the admissions committee decides whether or not to accept you. They want driven applicants, so that they can trust their students will be successful!
2. You only want to go to this school if you get into a specific program.
If you want to join the music program at this school, and have no interest in any other major, it's a good idea to go ahead and declare your major on your application. That way, you don't have to worry about whether you got into the school, but not the program.
3. The major that you want is unpopular.
Like it or not, there are some schools that have decided that they must accept a certain number of students to each major each year. When this is the case, you're more likely to be accepted if you declare an unpopular major on your application. If you really want to attend a certain school, this is a great way to up your chances of getting in, especially if you're also passionate about the unpopular subject.
Just be cautious using this method – some schools won't let students switch majors until a certain number of courses are completed, which could delay your graduation.
You should not indicate a major if…
1. Your high school grades are good enough to get you into the school, but the program you want is extremely competitive.
At a lot of schools, challenging majors (like engineering) have a very high standard for applicants, and they don't accept anyone below their minimum GPA or SAT/ACT scores. In this case, if you know you want to go to that school, you should apply as an undecided major, and then talk to your advisor after your first semester or two about switching into the program you wanted.
Keep in mind that if the courses required for this program must start during your freshman year, this might not work. It's important to do your research before banking on this method!
2. Your school offers a build-your-own-major or an interdisciplinary studies program.
If your interests don't align with one particular major, and you want a sample a little bit of everything, you may opt to attend a school with one of these programs. If that's your plan, you may not need (or want) to declare a major on your application.
3. You truly have no idea what you want to do.
It's okay to be undecided. Most students change their major several times in college, so there's no harm in waiting until later to decide. With no required courses to hold you down, you can try out a little bit of everything and see what you like best!
It's important to remember that you may choose to do things differently on each college application. Maybe you want to declare a major on some applications, but not others. Do your research, and make sure you do what's right for you and your future goals!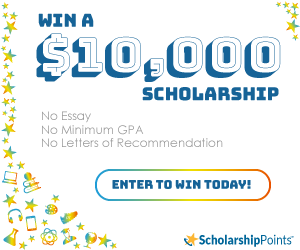 Win a $2,500 Scholarship!
Join ScholarshipPoints today and be automatically entered into our monthly $2,500 giveaway.