Home Sweet Home: Dealing With Parents Over Winter Break
Whether you're a weathered senior or a starry-eyed freshman returning for the first time, going home for winter break isn't always easy. You're used to a certain lifestyle unique to the college experience – late nights, loud dorms, reporting to no one, and (for the most part) doing whatever you want, whenever you want. But winter break is starting, and for most students, that means returning home to Mom and Dad, where the college lifestyle they've adapted to hangs in limbo until next semester begins.
Even if you're the tamest student on campus, there's bound to be an air of culture shock when you return home for the next few weeks. If you're a freshman, your parents are expecting the person who left for college months ago – and though you're still you, you've probably gone through a lot of changes since Welcome Week. Even students coming home for the second or third year in a row can feel tension upon their arrival.
And it's not just you. Since leaving the nest, your parents have undergone changes, too. Maybe they've renovated your old bedroom into an office or started giving your younger siblings privileges they never would have given you. You think you were the one who gained freedom when you moved on to college, but you weren't the only one.
Your parents may expect you to return to the way things were before you left: assigned chores, getting permission before you go out, old curfew. You're returning to your childhood home a different person than the one who left it, and even if your parents understand this, a little strain will be inevitable during the readjustment period. So, how do you combat it? Here's a few tips.
Get any big news out of the way.
Dye your hair? Have a new SO? Get a tattoo? Get any possible points of contention out in the open (and out of the way) early on. You may be an adult and may have more freedom now, but give your parents a heads up before you show up at the door with blue hair or a previously-forbidden nose ring. I'm sure they'll appreciate it (and hopefully you can avoid a homecoming argument if the cat's already out of the bag).
Set expectations early.
Are you supposed to be home by a certain time? Can you use the car? Who can come over, and when? Do you need to get a seasonal job? You may have gotten a glimpse of your family's expectations of you while home over Thanksgiving Break, but now you're settling in for a few weeks. Talk to your parents about what they'll expect of you, and discuss your expectations as well. It's okay to negotiate a bit. Find a middle ground where everyone is happy to be under the same roof again.
Make a plan.
Coming off three or four months away at college, you'll want to spend some time with friends you haven't seen in a while, too. Your parents can surely understand this – just get an idea of any family obligations you're expected to be at before you make other plans. They've missed you, so make an effort to share your time at home.
And, finally, help out.
Your parents have taken care of you for your entire life. While you're home, showing that you love and appreciate them can be as simple as helping with the dishes, taking out the trash, or cleaning your room. Show them how you've matured since you've been away, and hopefully they'll treat you like an adult in return.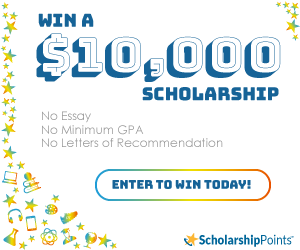 Win a $2,500 Scholarship!
Join ScholarshipPoints today and be automatically entered into our monthly $2,500 giveaway.