Financial Literacy for Students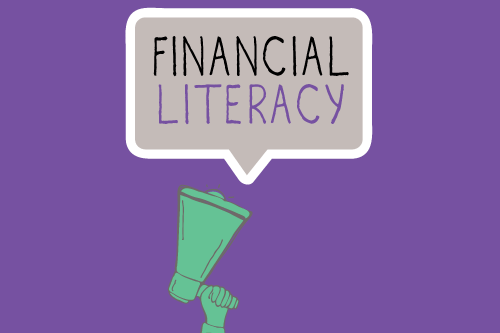 What is Financial Literacy?
According to the President's Advisory Council on Financial Literacy, personal financial literacy is defined as "the ability to use knowledge and skills to manage financial resources effectively for a lifetime of financial well-being." (2008 Annual Report to the President)
Some people learn about finances the hard way, through trial and error. Unfortunately, this can cost you a lot of money as you learn. As experts in planning and paying for college—as well as student life—we're here to help.
Finances can be especially stressful when you're on your own for the first time. Let's take a look at some of the services and scenarios that can get students into financial trouble, and some steps you can take to prevent financial emergencies before they happen.
Overdraft Protection
Overdraft protection isn't necessarily a good thing. According to Bankrate.com, the average overdraft fee in the US is $33.96. In 2016, CNN Money reports overdraft fees and bounced check fees added up to a whopping $15 billion for American consumers. And because many banks will automatically enroll you in this service, you might be surprised if you overdraft your account by $5 for a latte and are hit with a $20 dollar (or more) fee. That's some pricey coffee.
So, what can you do?
Keep a buffer amount in your checking account – Always have a little extra in your checking account that you don't touch. This can be as simple as having a $25 dollar buffer so if you make any small mathematical mistakes, you won't be paying big for them.
Decline overdraft protection – You may have to log in to your bank account to do this manually. No overdraft protection may mean your card will be declined if you try to spend more than is in your account, but having your debit card declined may be better than going into the red in your bank account because you accidentally bought something you couldn't afford.
Reconcile your account – It can be a pain to keep receipts, or keep track of every little purchase you make in stores, at restaurants and online, but not only is it one of the best methods for preventing an overdraft on your account, it's also the first step in taking real control of your finances. Reconcile your charges monthly at a minimum. (Don't forget to factor in monthly recurring fees, like subscription services.)
Try a banking and investment app like Stash – Stash can help you hit your financial goals faster. Get the do-it-all home for your money and never look back. Starting at $1/month, this subscription app can help you reach your money goals. Invest, bank, and save with Stash!

This is an Advertisement
Taking Out a Loan
Borrow within your means if you must borrow at all. Remember, the amount you borrow is not the amount you'll pay back. Loans come with interest. Consider the full cost to you over the life of the loan before you sign on the dotted line. Is this an amount you can afford to repay? Should you use a cosigner with strong credit to help bring down the interest rate or qualify for better terms? Does the loan have prepayment penalties if you pay it off early? When you pay your loans off early, lenders lose out on potential earnings from interest. Some charge a fee for that.
This is a great strategy for vetting colleges as well. Consider the average salary for your future career. Will you earn enough to manage your student loan payments after graduation? Ask yourself if the college of your dreams is also the college of your means. This can be a hard decision for students, but it's worthwhile to consider your life and financial well-being after college.
Note: Federal student loans—and most private student loans—do not have prepayment penalties.
What Is a Payday Loan?
According to the National Association for Consumer Advocates, payday loans are considered predatory lending. They define payday loans as "short-term, high-interest loans, usually for small amounts ($500 or less) that are due on your next payday. These loans are often advertised as quick help for an unexpected emergency."
The current interest rate on a Direct unsubsidized federal student loan is 4.53%, and the interest rate on private student loans can be as low as 2.75%. Contrast that with the average finance charge on a payday loan, which is $10 to $30 per $100 borrowed. This means a $200 loan could cost you $60 in fees. That's a whopping 30%. Add the amount you borrowed, and this is what would be due when you next get paid. Armed with this information, you can see how payday loans often create a cycle of debt that is difficult to break free from.
Credit Cards
Credit cards can be a great way to help establish credit, and maybe necessary for some things like reserving hotel rooms or renting a car. But, a credit card should never be seen as an extension of your bank account. The interest rate on credit cards—even student credit cards—is typically more than 14%, and can go upwards of 25%. Cash advances on credit cards are often subjected to an even higher interest rate than standard charges. If you carry a balance on your credit card (i.e. you don't pay it in full at the end of every month) you will be paying interest, substantially increasing the amount you'll pay over time for your purchases.
For students looking to build credit in college, we recommend getting a student credit card, like this card from Deserve. When using a credit card to establish credit follow these guidelines:
Do not make large, unplanned purchases on your credit card
Put a small monthly bill on your credit card and pay it each month to establish credit history
Pay your credit card off in full every month
Reserve credit card use for emergencies
How Much Should You Have In Emergency Savings?
Saving money can be hard, especially if—like most students—you are already on a limited budget.
According to financial expert, Dave Ramsey, roughly 40% of Americans (not just students) are unable to cover a $400 emergency.
The best way to avoid payday loans, overdrafts, and cash advances, is by preparing for emergencies. And a great way to prepare is by establishing an emergency fund. An emergency fund is separate from other savings, and is money set aside specifically to cover the costs of unforeseen circumstances.
A common amount to have in an emergency fund is $1,000. This is typically enough to cover expenses like an unexpected brake job on your car, surprise textbook costs, a paycheck that is smaller than you expected, etc. Having an emergency fund can keep your finances healthy by preventing unnecessary borrowing that comes with high interest rates and fees.
Common Financial Strategies for Students
Ultimately, you are in charge of your own financial well-being. Here are a few tips to address common financial pitfalls students may run into.
Create a budget – According to a Debt.com study, only 50% of people under the age of 22 have a budget. If you're not budgeting now, and you're having trouble making ends meet it's time to take a long, hard look at where each and every penny is going. Sit down with your last few months of bank statements and review your charges. How much are you spending on eating out or entertainment? Do you have services or memberships you can cut out to free up cash for establishing an emergency fund?
Pay yourself first – Each time you get paid, have a certain amount of money automatically deposited to your savings account. If you don't get paid by direct deposit, you can also set up an automatic transfer to your savings. This develops the habit of saving for you. If the goal of $1,000 seems impossible, this method will help you build your savings overtime.
If you can't afford to save, take a realistic look at your finances. Is there an expense you could cut out for six months in order to set yourself up for financial stability (streaming services, eating out, etc.)?
Sign-up for credit monitoring – Most banks offer this as a free service or low-cost monthly service. Credit monitoring will help you see if you are overdue on any of your accounts (this can include things like utility and medical bills), and will help you monitor your account for fraud. Additionally, building credit now will help you after college and well into adulthood. It's worthwhile to take the time to monitor and understand your credit report.
Pay off your credit card monthly – Many students get their first credit card when they start college. If you use a credit card, be sure not to carry a balance, and pay it off every month. Never charge more than you can afford to pay. Remember, if you don't pay your credit card off every month you will accrue interest on those purchases. That interest will be added to your principal the following month, and you will begin accruing interest on the original cost of your purchase, plus what remains of the previous month's interest. These totals can quickly compound and add up, increasing your debt substantially. You should always make at least the minimum payment, but know that if you only make the minimum payment, it may take years to pay off your charges.
It's also important to note that a credit card should not take the place of an emergency fund. Exhaust your emergency fund first before turning to credit.
Starting off on the right foot with financial literacy can have a domino effect throughout your life. Understanding how to manage your money now will set you up for success in the future.
Win a $2,500 Scholarship!
Join ScholarshipPoints today and be automatically entered into our monthly $2,500 giveaway.