6 Cheap Ways to Brighten Up Your Dorm Room
When it comes to decorating and organizing, I believe simple is better, and in most situations, less is more. Face it…you probably don't have a lot of room to play with. Here are six inexpensive ways to add some personality and brighten up your dorm room or apartment, without your décor becoming clutter!
We review and recommend products to help you buy the stuff you need. If you make a purchase by clicking one of our links, we may earn a small share of the revenue. Our picks and opinions are independent from any business incentives.
Clean
Wait, what? You read that right. Clean. Improve any space simply by taking a broom to the floor, washing the dishes, or cleaning the windows. Not only is this inexpensive, but it's a habit you should probably get into anyway.
Photos
Have you ever been in a room where it seems like you can't even see the color of the wall because it's so covered in stuff? Too many decorations can be obnoxious and overwhelming. However, there is absolutely nothing wrong with hanging up a few pictures. Frames can be expensive, and in most places you can't put holes in the wall anyway. A cute alternative to picture frames is hanging photos on a line with clothes pins. Turn this into a fun DIY craft with your roomies, or try something like this from Amazon:
Pillows
I love that my apartment is furnished, however, the drab brown couches can be a little depressing. It's amazing what some throw pillows can do for a room! Pillows are surprisingly expensive. I've had the best luck finding good deals at stores like Ross, Tuesday Morning, and TJ Maxx.
Bed Risers
Bed risers are more expensive than I thought they would be, but I think they're worth it. They come in a variety of heights and some even have USB ports on them. They range from around $8.00 to $40.00, depending on the height and accessories. If your building allows you to use bed risers, I highly recommend it. The extra storage space can help declutter the rest of your room, making it feel more spacious and open. Bed risers also make it easier to clean under your bed!
Multi-purpose items
Save space, and add homey touches with these cute items. Some examples that I've found are ottomans that double as storage, and full length mirrors that open to reveal a small jewelry storage space. One affordable multi-purpose item that I love are canvas storage bins. These bins look nice, add color to any room, and are great for storing almost anything!
Lights
This may seem obvious but yes, lights brighten things. I use a string of small white lights for my bedroom. I bought them at Walmart a week or two after Christmas (when everything is suuuuper cheap). You can also check the dollar store or look on Amazon to find a good deal on these. Lights are cheap, cute, and easy to move around for various occasions.
Whether you're just moving in, or planning for a party, use these tips to brighten up your living space and stay within your budget!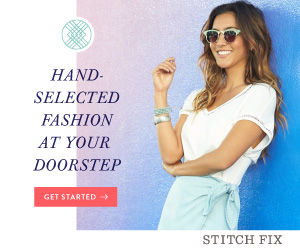 Win a $2,500 Scholarship!
Join ScholarshipPoints today and be automatically entered into our monthly $2,500 giveaway.