5 Things I Learned During My Freshman Year of College
Your first year of college is a vital learning experience. Without all the pressures of high school cliques, you finally get a chance to figure out what you want to do, and who you want to be. You are free from rules and parents (okay, mostly), so you can go out with friends whenever you want, and maybe you make a few mistakes along the way. You are independent, and a little nervous, but excited for what's to come — in the next four years and beyond.
I learned so much during my freshman year of college, and not just in classes. I discovered things about myself that I never expected, figured out how to actually study, and learned that making a relationship work takes a lot of effort (on both ends). As I approach my second year of college, I'm looking back on what I learned — and, let me tell you: it was a lot.
1. You won't necessarily be friends with the first group of people you meet.
And you won't necessarily meet your soul mate early on, either. You'll meet tons of new people during your first few weeks of school, but unlike what they say in movies, not all of them will be your new BFFs — and that's okay! You shouldn't feel obligated to be friends (or more than friends) with anyone; just let relationships form naturally, and you'll find where you belong soon enough.
2. It's okay to change your mind.
I spent my whole life thinking I wanted to be a musician, but by the end of my first semester as a music major, I realized that it wasn't for me. Despite the fact that it shocked a lot of my friends and family, I decided to change my major — and it's made all the difference. There's nothing to be ashamed of if you change your mind (in fact, up to 70 percent of college students change their major at least once — and some even more than that), whether it's about your major or even about what college you want to attend. The important thing is that you find what makes you happy, and you put in the work to pursue it.
3. You get out of each activity what you put into it.
Whether it's a class, a club, or even an intramural sporting event — your reward is only as great as the work you put in. More effort put into class might mean a higher GPA, or even making the Dean's List by the end of the semester, and more attendance to club meetings might get you a spot on the executive board or another leadership position next year. If you push something off to the side, you simply aren't going to benefit from it — so give your all to everything you choose to do.
4. You can totally avoid all-nighters with sufficient planning.
There are dozens of rumors about college classes, like that you can get away without doing the readings or that your professors don't care about attendance, but one of the most prominent is that you simply can't avoid pulling an all-nighter or two each semester. The truth is, just like in high school, some classes are cake, and some you really have to work for — and if it's a class that requires a lot of assignments, you just need to plan ahead! You won't need to panic, cram, and stay up all night if you follow along with the syllabus and do the work as it's assigned.
5. People will come and go — but your loved ones will be there no matter what.
You may be hundreds, or even thousands, of miles from home, but rest assured that whenever you need something, your mom (or dad, or sister, or grandparent, or significant other, or long-distance best friend) will be right there to help you out and boost your confidence. They love you and care about you, so even after you forget to call and blow them off for your new friends, you can depend on them in your time of need (so make sure you say "thank you" every once in a while).
College is a time of new experiences and great adventures — and freshman year is only the beginning. Who knows what's to come as the next three years unfold?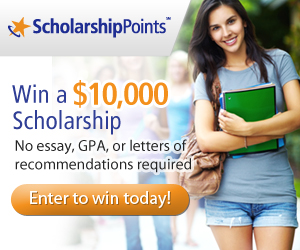 Win a $2,500 Scholarship!
Join ScholarshipPoints today and be automatically entered into our monthly $2,500 giveaway.