4 Easy (and Cheap!) Ways to Stay Fit This Summer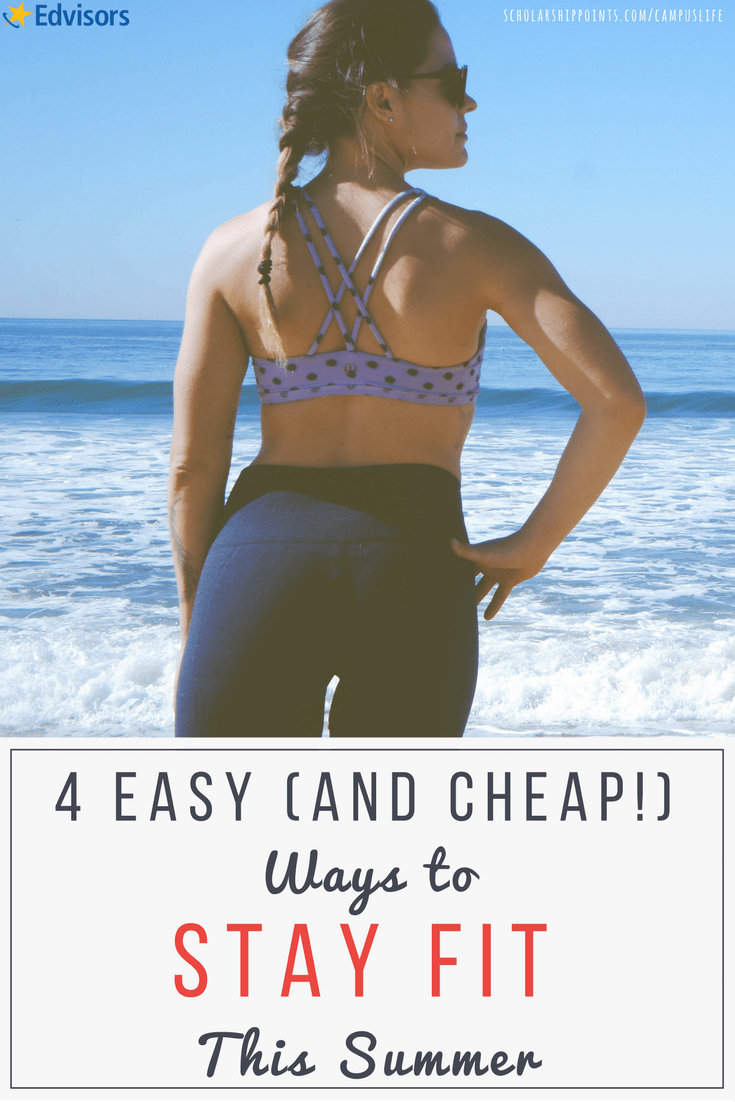 Getting in shape for the summer is a trend that doesn't seem to want to die down. Around the same time every year, gyms get a little more crowded, trails fill up, and diet plans start. However, keeping up with your fitness journey can cost you some major bills.
Some gym memberships are more affordable than others, but either way, you're still putting out a few extra bucks every month when you could be saving the money for something else (summer beach trip, anyone?). Spending the big bucks on organic, healthy goods doesn't help your budget, either. Taking care of your body is wonderful, but what if you can't afford pricey memberships and an all-organic diet?
We review and recommend products to help you buy the stuff you need. If you make a purchase by clicking one of our links, we may earn a small share of the revenue. Our picks and opinions are independent from any business incentives.
Work Out on Campus
If you're a student, cancel your spendy gym membership and work out at your school's fitness center…for FREE. Going to any gym can be intimidating, but you'll see a variety of people that are at different stages in their fitness goals. Don't worry about how you look in the gym, because you'll look and feel amazing once you make it a habit!
Work Out at Home
Grab some weights, resistance bands, or just yourself, and get started! Working out at home takes a lot of motivation and dedication, but it can definitely be done. YouTube has tons of workout videos for men and women. Take a look around and find something you like. If weights and squats aren't your thing, find yoga or dance workout videos. Find something you actually enjoy, and it will stick.
Be More Active in Your Free Time
On days you have off from work or just find you have nothing to do, make yourself more active. Take up a sport such as basketball, ultimate Frisbee, or tennis and watch the pounds melt off and the muscle build. Try a new class, like kickboxing or Pilates. Get outside and go on a hike, bike along a trail, or go for a run. Find a way to break a sweat on a regular basis, and slowly but surely, you'll get closer to your goal.
Eliminate the Dirt
Junk foods such as chips, Twinkies, and cake need to go. Maybe not all at once, but little by little, eat less junk food and you'll notice a difference. Reach for water instead of sugary drinks like soda, and choose a sandwich at home over a Quarter Pounder with cheese. If you can't afford to buy organic foods, simply cutting out fast food and eating at home can go a long way toward making you feel and look healthier. When you do go out to eat, make smart choices. I know the chicken fried steak and mashed potatoes sounds delicious, but believe me, your body will thank you in the long run for choosing healthier options. Ask for dressing on the side, drink your fill of the free water, and if you have to have something decadent (like a gigantic piece of cheesecake) split it with a friend.
It may seem impossible, but you don't have to invest a lot of money into getting fit. Play around with different ideas, and find something that works for you!
Win a $2,500 Scholarship!
Join ScholarshipPoints today and be automatically entered into our monthly $2,500 giveaway.