16 Restaurants That Give Student Discounts
Being a student with a budget is a hard task to keep up. Most of us don't think twice about restaurants that give student discounts, but a small percentage off or a free drink here and there can help us save money more than we think it can. Check out some of these places that give student discounts for the next time you're on a snack run:
Arby's
The next time you have a late night craving, you can save 10% when you break out your student ID card.
Buffalo Wild Wings
You'll enjoy your plate of wings even more when you get a 10% student discount.
Burger King
Burger King also gives students a 10% discount on any meal.
Chick-fil-A
I know, right?! With your student ID, you can get a free drink with any purchase.
Chipotle
Use your student ID to get a free soft drink after eating a massive burrito.
Dairy Queen
Dairy Queen gives you a "Student Meal Deal," and you can get a student discount card. The amount of the discount depends on the location.
Dominos & Papa John's
You can get a student discount based on the location. So ask away!
Hard Rock Café
International students can get a discounted meal at Hard Rock Café. Just whip out that student ID card.
McDonald's
If you are one of the few who still eat here, McDonalds will give you 10% off your next purchase.
Pizza Hut
You get a 10-20% discount off your next pizza pie!
Qdoba
You can get a $5 student burrito meal or a free drink after you purchase a meal.
Schlotzsky's Deli
Don't worry about trying to pronounce the name. They specialize in sandwiches, and are in a variety of locations. Students can get up to 10-20% off at participating stores.
Subway
Participating locations give you a 10% discount off your salads, sandwiches, and snacks at select locations.
Taco Bell
Taco Bell already has a pretty great affordable menu. In addition, students can get a 10% discount at participating locations.
TCBY
For those who don't know, this is a good yogurt shop that serves a variety of frozen treats, as well as iced coffee and other drinks. With your student ID, you can get 15% off your next sweet snack.
Waffle House
Isn't this lovely? Nothing is better than going to the Waffle House and saving 10% when you show your ID.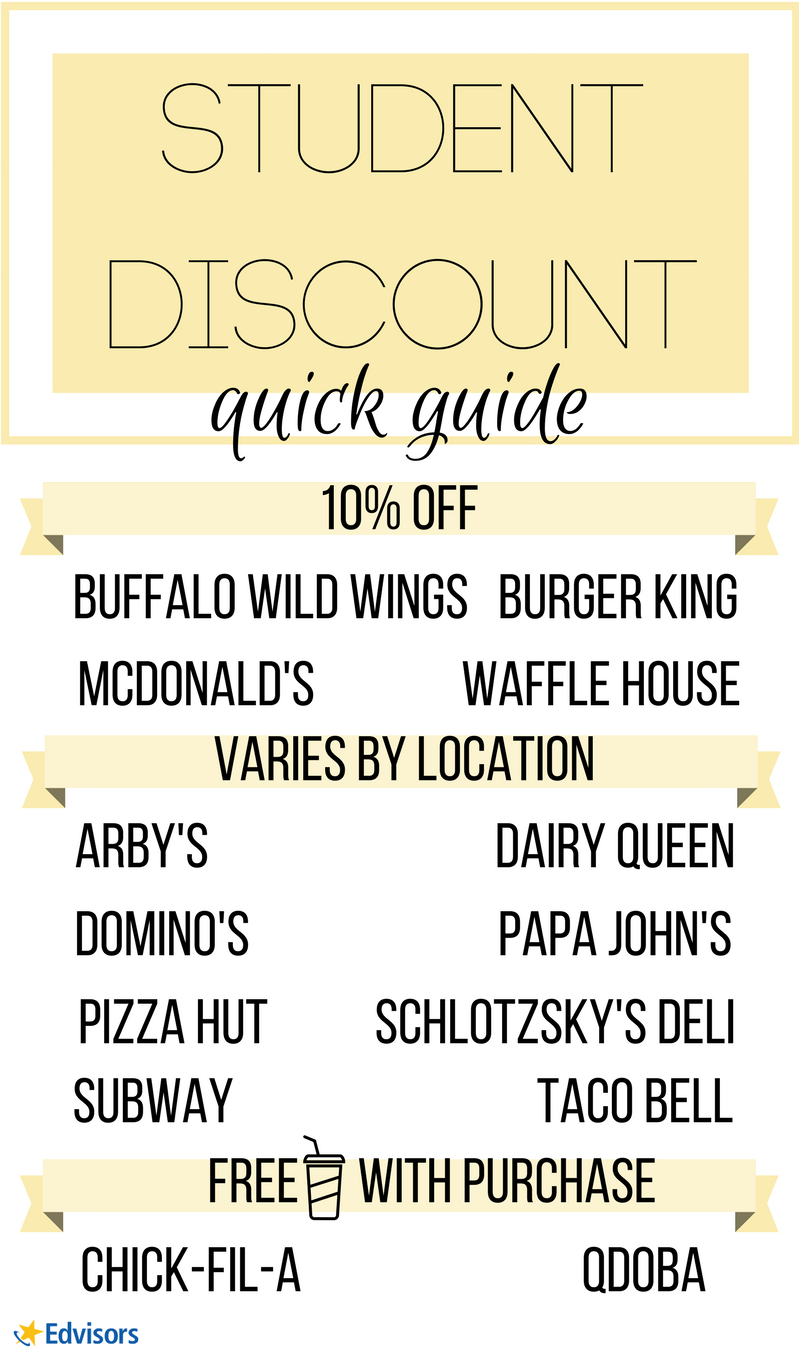 Win a $2,500 Scholarship!
Join ScholarshipPoints today and be automatically entered into our monthly $2,500 giveaway.