16 Scholarships for College Seniors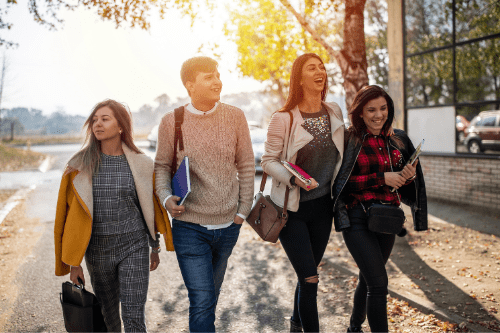 College seniors are still eligible for many scholarship opportunities, including scholarships from your college. Make sure to reach out to your financial aid office to ask about scholarships offered exclusively by your school. These scholarships will often have a smaller pool of eligible candidates than national scholarships.
Many scholarships, like the ScholarshipPoints three monthly $1,000 drawings and one $2,500 drawing, are available to students in junior high, high school, college, and even graduate school. If you are not a ScholarshipPoints member, join today and be automatically entered into our next $2,500 scholarship giveaway. See what past winners have to say!
Here's our list of great scholarships available for college seniors:
This $1,000 scholarship will be awarded to 24 female video game streamers who want to pursue a career in the gaming industry. Learn more
The Fund Your Future No Essay Scholarship is a $1,000 scholarship for students majoring in business, healthcare, or STEM. Students must be eligible for a Stride Funding ISA to apply. Learn more
Every quarter, ScholarshipPoints awards a $2,500 scholarship to one of its members. For a chance at winning this scholarship, be sure to sign up today!
The Delete Cyberbullying Scholarship is a $1,000 award available to high school, college and graduate students. It's for students passionate about helping to get rid of cyberbullying. Learn more
The Mechanism Fitness Matters Scholarship is a $500 scholarship award based on a student's academic achievements, ambition, commitment to their own fitness, and its impact on their lives. Students must answer an essay prompt that discusses their approach to fitness and its benefits. Learn more
The "Be Bold" No Essay Scholarship is a $25,000 scholarship that college seniors can apply for. The scholarship is awarded to the student with the boldest profile on bold.org. The student's profile should communicate earnestness, determination, and inspiration. Learn more
This $5,000 scholarship was established to help increase the presence of minorities with high-ranking positions within the transportation, travel and tourism industries. Learn more
If you're a college senior who played or participated in sports at one point and you can write about its impact on you, then the $500 Big Sun Scholarship might be worth applying for. Learn more
Authors Gen and Kelly Tanabe created this $1,000 scholarship help students like you pay for college. Students in high school, college, and graduate school are eligible to apply. Learn more
If you're currently attending college or planning to do so, you can apply for the $1,000 SuperCollege Scholarship. It can be used to cover the cost of any expenses related to your education. Learn more
The Amy G Law Firm Access to Education Scholarship is a $1,000 award for students who are in good academic standing, can articulate in an essay how higher education influences culture and society, and discuss methods for improving access for underrepresented groups. Learn more
The CareerFitter Scholarships is a $1,000 opportunity for college students with at least a 2.4 GPA. To apply, students must write an essay on their perfect career. Learn more
The Christensen Law Distracted Driving Awareness Scholarship is awarded to students who submit an original creative work, story, or essay on the impact of distracted driving on their lives. Learn more
The Spirit of Giving Scholarship is awarded to three students annually. This $1,000 scholarship is for who embody the spirit of giving. Learn more
The Nitro Scholarship is a $2,000 scholarship opportunity that is available to a wide variety of students and parents. Not only can college seniors apply for this scholarship, but their parents can too. Learn more
The Ritchie-Jennings Memorial Scholarship award ranges from $1,000 to $10,000 for students looking to study fraud examination as a career path. Learn more
Are you interested in more scholarship opportunities?
ScholarshipPoints is not only your place for scholarship lists like this one. When you sign up as a member, you automatically enter our $2,500 scholarship drawing! And who knows? You could be the next winner.
More Scholarship Lists
Win a $2,500 Scholarship!
Join ScholarshipPoints today and be automatically entered into our monthly $2,500 giveaway.