Managing Scholarship Deadlines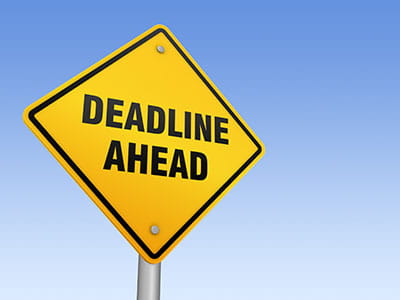 There are so many opportunities for scholarships, so it can be a complex and time-consuming proposition. In fact, as soon as a student has been accepted to college, the process of looking for a series of scholarships to subsidize their education should begin immediately. Each scholarship application takes time to complete, as well as an often-substantial delay in being approved or denied.
Create a Scholarship Fund Plan
The student needs to approach their search for a scholarship like a part-time job. If you devote 25 hours completing various scholarship applications in order to get a $1,500 scholarship, this actually translates to $60 per hour. This is a huge payoff when you consider that the average teenager makes only about $9 per hour at a part-time job.
No scholarship is too small to merit an application. While the student may be tempted to only apply for scholarships valued in the thousands of dollars, there are many scholarships valued at $250 or $500 that are great opportunities. If you're able to piece together seven or eight of these scholarships, you're looking at a windfall of nearly $3,000. As an added bonus, many college students may overlook these smaller scholarships thus making the competitive pool greatly reduced as opposed to some of the high dollar scholarships.
Organization is also critical because you don't want any scholarship opportunities to fall through the cracks. Each scholarship application that gets submitted should be logged onto a spreadsheet so that you can clearly see the submissions to date. This includes being sure to complete the Free Application for Federal Student Aid (FAFSA) each January. Once the submissions have been fully logged, the student should check with the scholarship committee after a reasonable period of time in order to determine the status of their scholarship application. If you were denied a scholarship, particularly one that required an essay, ask the committee if they would be so kind as to provide you with some feedback so that you can improve future efforts. Keep in mind that if you fail to obtain a scholarship in one year, you can always apply for the same scholarship the following year. This means that you must keep your college scholarship log updated at all times and use it from year to year.
You also want to prioritize your scholarship application submissions whereby you send those in first with the earliest deadlines. At the same time, pay careful attention to the deadline for each scholarship because these are typically non-flexible. If you're unable to locate a deadline date, then contact a scholarship representative. There is no point in submitting an application for a deadline that has already passed. However, you should retain that information so that you can submit it in a timely fashion the following year.
We think you'd also like...