Make the Right Choices when Applying for Scholarships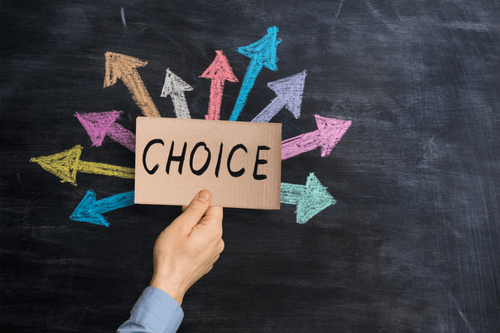 When you begin thinking about how you will pay for college, it can be overwhelming Then add in the different ways to pay, scholarships, federal student loans, private student loans, grants, work-study, etc., and the anxiety can build pretty quickly. Before you go anywhere else, begin with scholarships. This "free" money does not usually require you to pay it back and helps give you the funds you need to pursue your dreams.

As you begin applying for scholarships, all the applications, essays, and information can be mind-boggling. There are so many avenues to pursue, you have to make the most of your time--but how do you do that? How do you know what scholarships are right for you and how do you find them?

Start with a plan: make a list and target scholarships that fit your strongest assets. By playing to your strengths, you're a better candidate and more likely to be successful in finding funds for your education.
What are your activities and interests?
First, make a list of your activities. You can then do general searches for scholarships aimed at those activities. There are scholarship funds out there for members of bands, artistic endeavors, theater and writing, but the list goes far beyond just the arts. There are scholarships aimed at medicine, science and engineering. By doing a broad search and then jotting down the search terms that garnered results, you can streamline the search process to yield the most results.
Are you a great writer?
If you're a great writer, you might want to consider looking into the scholarship grants aimed at writing competitions. The high-profile ones have extensive competition, but there are a number of essay contests out there providing a few hundred dollars to those who are selected. Often these scholarships are awarded to multiple applicants and can serve to get you published as well.
School specific
There are alumni out there that help aspiring students and they form grant organizations. If you know what school you're attending, look for scholarships aimed at that university. The competition will be limited and you have a chance to make important connections on campus before your arrival.
Regional
Some scholarships are designed to help rural students continue on to college. If you live in a community that doesn't have a huge population, you might qualify for such scholarships. A simple "rural scholarship" search turns up many options. You can then look through some of the pages and decide what direction is best for you. If you plan on building a career in agriculture or farming, there are many places looking to aid you in your educational quest.
Regions also include states or particular areas that have been underserved by higher education. You can seek scholarships specifically offered to those who live in your state, county or town. You never know what type of grant service has been set up and it's worth looking into.
There are no limits when it comes to applying for scholarships. Use your imagination to seek out unique scholarships that only a few will try for. This increases your chances of success and if you are given multiple awards you are just that much closer to completing your education and remaining debt free.
We think you'd also like...