Personal Statement for College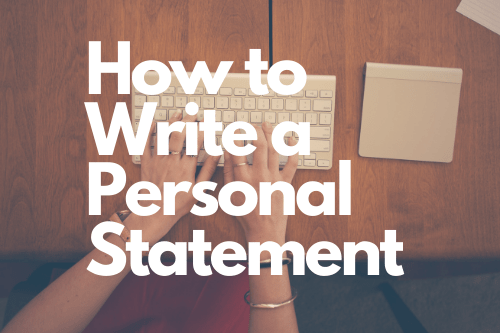 Personal Statement
Many colleges require a personal statement as part of the application process. This term is often used interchangeably with college application essay.
What is a personal statement
A personal statement is essentially a college application essay. You may be provided a prompt to address in your personal statement. The personal statement allows you to share more about who you are that may not be evident from your college application alone. It also gives the college an opportunity to assess your writing skills and learn more about why you want to attend their school.
How to write a personal statement
To begin your personal statement, start with the prompt provided by the college you are applying to. Some colleges will provide multiple prompts to choose from, while others may ask you to submit more than one essay.
Once you have your prompt, you can begin structuring your personal statement in the same fashion you would write any other essay. Here is some essential advice for crafting your statement.
Choose a prompt that speaks to you: Many college applications, including colleges that use the common application, will provide multiple prompts to choose from. Choose the prompt that you find most appealing as this will be easier for you to write about. Remember, this is your opportunity to share insight into who you are as a person, and who you are as a potential student.
Be yourself: Though structured as an essay, a personal statement should not be as formal as an academic essay. Let your distinct voice shine through. Use basic, clear language to be effective. You do not need to use fancy words to get your point across. They may distract from the point of your essay and your own unique voice.
Find a way to stand out. Your personal statement should help you stand out from the crowd—remember the admissions department is going to read hundreds, if not thousands of applications every year. Find a way to incorporate your personality, and don't be afraid to step out of the box.
Don't leave it for last: Your personal statement is your opportunity to demonstrate who you are as a person as well as your writing proficiency. Starting early will allow you time to edit and revise this important part of your college applications.
Don't skip the editing process: Even if you are a stellar writer, you will want to leave time to allow another to read and edit your essay. Does everything make sense? Is there a logical flow? Is your essay free from typos? Editing allows you the opportunity to strengthen your piece and put your best foot forward. It's recommended that you share your personal essay with others to get their feedback. Those who are reading your essay may catch grammatical errors, as well as offer additional notes to help you refine your statement.
Personal statement format
A personal statement should follow standard essay format unless otherwise instructed. Here are some basic tips for formatting your personal statement.
Use one common, easy to read font: 12pt Times New Roman, Helvetica, Tahoma or Arial are all good choices.
Avoid "fancy" fonts and fonts such as Comic Sans.
Consider the expectations you have encountered of teachers and professors when writing essays and write your personal statement to that standard.
Pay attention to word count: Most personal statements will have a maximum word count you must stay under. Be sure to build your personal statement with word count in mind.
Personal statement for graduate school
Graduate school applications often refer to the essay portion of the application as the personal statement. Treat this as you would any other college application essay. It's simply different terminology for the same thing.
How long should a personal statement be
The length of your personal statement will vary based on the requirements of each school's application. If your school uses the Common App, your personal statement should be no fewer than 250 words, and no more than 650 words. Refer to the college's application for the desired essay length.
Personal Statement Examples
You can find many examples of personal statements online. These should serve only as examples for your essay, which again should reflect your personal viewpoint, experience and voice. Some resources for personal essay examples are listed below.
Win a $2,500 Scholarship!
Join ScholarshipPoints today and be automatically entered into our monthly $2,500 giveaway.