How to Get a Full Ride Scholarship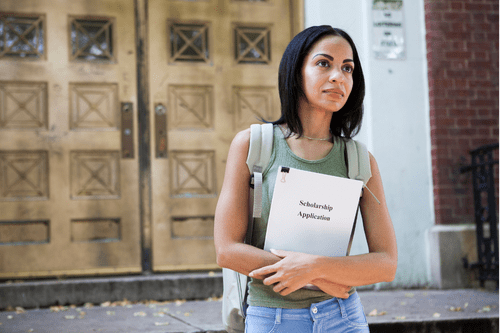 Getting a Full Ride Scholarship
Every college-bound student has a dream of getting a full ride scholarship. Not only do full-ride scholarships relieve the potential stress of post-graduation debt, getting paid to go to school full-time without tuition costs tugging at your wallet can make attending college an experience to remember. Full-ride scholarships are extremely competitive, with most opportunities going to students who have achieved academic excellence or excelled in extracurricular activities. Some "full-ride" scholarships only cover tuition while other college expenses like books and housing are up to you. Some full-ride scholarships will cover all of a student's college tuition, room and board, and all other expenses related to attending college.
Below we cover the most common types of full ride scholarships, along with where to look for these opportunities, and additional ways you can increase your chances of being offered a full-ride scholarship.
Types of Full Ride Scholarships
There's a variety of full ride scholarships, all with different criteria. Luckily, this means that there may be a full-ride scholarship opportunity whose criteria you will meet. Don't worry if your ACT scores or SAT scores are not perfect. Test scores aren't the only way to get these type of scholarship opportunities. There are other scholarship opportunities that are awarded to students with a variety of other eligible criteria:
· Merit-based Scholarship – A merit-based scholarship may be based on GPA, ACT/SAT scores, your final academic standing within your graduating class, community service, leadership skills, and more.
· Need-based Scholarship – A need-based scholarship is typically based on demonstrated financial need from the student or family to pay for college.
· Talent-based Scholarship – Some colleges and organizations may award full ride scholarships based on talent in the arts, music, theater, and more.
· Athletic Scholarship – Full ride scholarships may be awarded to exceptional athletes willing to compete at the college level while in school.
· Demographic Scholarship – Some full ride scholarships are reserved for students from a diverse background, gender, religion, or association. This type of scholarship often has related merit and need-based components.
Keep in mind during your scholarship search that there is more than one way to receive money to pay for college. Don't restrict yourself to applying to only one kind of scholarship, be sure to try and apply to multiple kinds of scholarships to increase your chances of winning. You can't apply to too many scholarships, in this case, the more the better. Using scholarships to pay for college, even if they aren't full ride, will still cut costs or help ease the financial burden of paying out of pocket or taking out a student loan.
How To Win A Full Ride Scholarship
Many full ride scholarships are awarded directly by the college or university. This is a great place to start your search. If you know the colleges you are interested in, speak to the financial aid office to discover what types of full scholarships they may offer, and what you need to do to qualify. A letter of recommendation is written by a teacher or counselor, who can vouch for a student's educational or talent-based performance.
In addition to colleges, there are organizations that award full scholarships. For example, the Gates Millennium Scholars (GMS) provides full ride scholarships to "outstanding minority students with significant financial need."
Many organizations' awards are dedicated to a specific mission, such as supporting a certain field of study, high-achieving students, underrepresented groups, etc. In addition to a general search, look for full or large scholarships sponsored by organizations you or a parent(s) are affiliated with, such as Air Force ROTC, the American Legion, etc.
Be sure to research full-ride scholarships related to any unique talent, musical or athletic ability you may have. Even though talent-based or athletic scholarships can be highly competitive, not every opportunity is reserved for top players. There are still full-ride scholarship opportunities available for students at all athletic and talent levels, so a bit of extra research can pay off, literally!
There are also many lucrative scholarship opportunities that are not considered "full ride." These scholarships award large dollar amounts to the winners and may have additional criteria for applicants, such as event participation, declaration of a particular major, etc.
Some large scholarships include:
Jack Kent Cooke Foundation, Cooke College Scholarship Program
Regeneron Science Talent Search
Finding Scholarships
In addition to pursuing full-ride and high-dollar scholarships, apply for as many smaller scholarships as you qualify for as well. These awards can add up to paying for an entire semester or two, textbooks, and many other college expenses. The scholarship matching tool StudentScholarshipSearch.com makes finding scholarships you are eligible for easy. You can search based on personal information, such as year in school, GPA, state of residence, etc. Create an account to save scholarships you are interested in and complete your profile to refine your matches. On top of scholarship matching tools, speak to your school counselors, advisors, coaches, or the head of any other organization or club you're a part of about any scholarship opportunities they have available. Start your search for scholarships as a high school senior as early in the school year as possible, so you can be sure you don't miss any deadlines.
No matter what, take advantage of every scholarship you qualify for, because even if you don't win a full-ride scholarship, getting any amount of money you can put towards paying for college will be worth it.
We think you'd also like...