Compare Colleges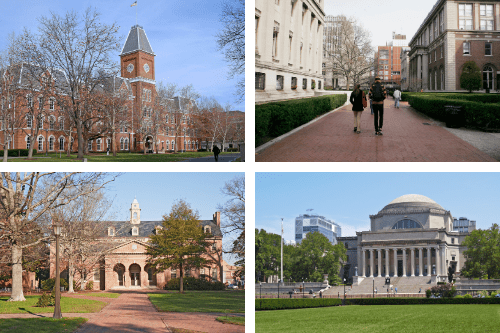 Selecting a college is a big deal. It can impact the rest of your life, and there is a lot to consider, including cost, location, college size and more. It can be overwhelming to review all of the colleges you are interested in one-by-one from their websites, but it's important to know as much as possible before making your final commitment.
How to Compare Colleges
One of the easiest ways to compare colleges is with the Edvisors School Snapshot Tool. Here you can enter in the schools you are interested in and view relevant information such as:
Undergraduate and graduate enrollment
Programs offered
Average debt
Average salary
Average graduation rate
School size
…and more
By using the school snapshot tool you can browse through colleges you are interested in to weigh factors like:
Affordability
Location
Student body size
Level of programs offered

Certificate
Associates
Bachelors
Masters
PhD
How to Choose a College
Once you are armed with information on the colleges you are interested in, it's time to narrow down your choices. Choosing a college is a personal decision, and individual factors will play a role in each student's decisions.
Some of the factors that you will want to consider:
Cost of the College
Cost of attending for four years
Anticipated salary after graduation
Types of College Programs
Can you earn the level of degree you want?
Does the college offer your preferred major?
College Location
Can you afford to live on campus?
Can you afford to live at home?
Do you have the necessary transportation for commuting?
Can you afford to travel back home for breaks and holidays?
Is it a city school, or in a rural area?
College Size and Enrollment
A small school with smaller class sizes
A large school with larger class sizes
Is it easy to get to classes, or are there long walks between buildings?
Salary after Graduation
Will you be able to repay your student loans with the salary of your chosen career?
Is the college too expensive for your future earning potential?
One last thing. Another factor that may influence which college you attend is the amount of financial aid you receive. Schools may offer different financial aid packages, and scholarships can make a significant difference. ScholarshipPoints offers a lucrative $2,500 quarterly scholarship that you could use to offset the cost of college. If you would like a chance to win this $2.5k scholarship, sign up for ScholarshipPoints today.
Win a $2,500 Scholarship!
Join ScholarshipPoints today and be automatically entered into our monthly $2,500 giveaway.