How to Save on College Textbooks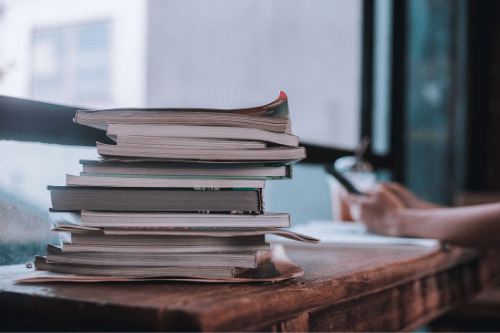 Free College Textbooks
The best place to begin your search for free college textbooks is your school's library. Most colleges will have copies of the textbooks needed for class, as well as novels and other books that may be required reading available in their stacks. Libraries often have limited quantities, so if you opt to go this route, you'll want to make it a priority stop as soon as college begins!
Cheap College Textbooks
If you aren't able to score the textbooks you need for free, there are a few ways to get them while still keeping the price way down.
eTextbooks
Purchasing or renting an eTextbook can be a great option for saving money on textbooks and comes with a host of additional benefits. Not only do eTextbooks mimic the print version, but many have additional features, links, interactive dictionaries, etc. The downside? If your textbook comes with a CD, the eTextbook may not have the information on that CD available. Also, you will need an eReader, tablet or laptop to read the textbook and take full advantage of any enhanced features. However, the cost can be significantly less than buying an actual textbook, and with the option to rent your eTextbook rather than buy, you can potentially save even more. Just keep track of your rental period and make sure you'll have access to your textbook until the end of the semester!
Used College Textbooks
Used textbooks are a great way to go. Check out websites like Chegg, where you may be able to save up to 90% off the list price of the book by purchasing a used copy. Amazon is another place to find excellent deals on used textbooks from sellers all across the country. Simply type in the ISBN number of the book you need for school to find used options available for purchase. You may want to stop by your college bookstore to see their discounted price for a used textbook.
When you are buying a used textbook, make sure to check the version! If it's not the same version you were asked to buy for your class, you can always reach out to your teacher to see if the older version will work—but if they advise you to go with the new version, finding a used copy may be challenging.
College Textbook Rental
Once again, check out Chegg and Amazon for textbook rental options. You can save a significant amount of money by renting a textbook. Plus, you're not just limited to renting hardcover textbooks, eTextbooks are available for rent as well. Other college textbook rental sites include:
Sell College Textbooks
If you purchased hardcover copies of your textbooks, whether new or used, you can recoup some of your money by selling them after classes end. You can sell your textbooks independently on Amazon or ebay, directly to another buyer, or you can look at selling your textbooks to a book buy-back site, like BooksRun, sellbackyourBook.com, or TextbookRush. With Amazon, you can set your price but will be responsible for shipping it to the buyer yourself. Book buy-back sites will often give you an instant quote for buying back your book and may even provide a free shipping labels to send your textbooks to them.
Are you interested in scholarships for textbooks?
When you sign up for ScholarshipPoints, you are automatically entered into our $2,500 scholarship drawing! We also award three (3) $1,000 scholarships monthly to members who enter those drawings. These scholarships can be used to cover the cost of your tuition, room and board, and of course, TEXTBOOKS.
Win a $2,500 Scholarship!
Join ScholarshipPoints today and be automatically entered into our monthly $2,500 giveaway.