The 250-Word Essay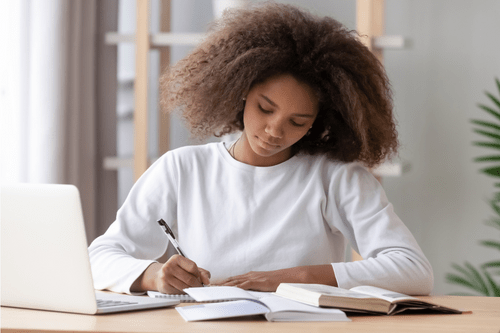 When you apply for schools or scholarship programs, you may be asked to write a 250-word essay (or more). The essay may be an open-ended question, or a direct prompt, either way your essay should highlight you and stand out. This is also an opportunity for the application or admissions committee to learn more about you as an applicant.
What is a 250 Word Essay?
As you are applying for scholarships and colleges, these essay responses are also known as the personal statement or statement of purpose. Most often, this is seen as a persuasive essay where you are trying to showcase and sell your abilities, yet still be humble and honest. Each college or scholarship will have varied requirements, so be sure to check and follow their specific directions. If your school is using the Common App, your personal statement should be between 250-650 words.
Length-wise, you can expect 250 words to be about one double-spaced page, or a half single-spaced page. 500 words will be about two pages double-spaced or a full page when single-spaced. This may seem like a daunting task for some. Either it sounds like a lot of words to dedicate to a single topic, or it may seem like this short essay doesn't give you enough words to work with. These kinds of essays are an opportunity to explain and back up your claims with evidence, along with the expectation of being succinct in your response.
Tips for writing a personal statement essay
Undergraduate personal statements usually provide you with a few different questions and you will choose one to answer. Some common personal statement prompts or questions are as follows:
Many students have different talents, interest, backgrounds, or identities that are deep and personal to who they are. Explain this part of who you are and share your story.
Share a time you faced a failure, setback, or challenge. What was it, how did it impact you, and what did you learn from it?
Think about a time or event where you have felt surprisingly happy or thankful because of what someone did for you. How has this moment of gratitude impacted you?
Discuss a time where you questioned a belief, truth, or idea. What led to the questioning and what was the outcome?
Write about an accomplishment, realization, or even where you found a new understanding of yourself or of others.
Reflect on a concept, idea, or topic that makes you lose track of time because you find it so captivating. Why does it engage you so, and where do you go when you desire to learn more?
You may also have the option to freely share what you want with the admissions committee to give them an opportunity to get to know you.
If you are applying to multiple schools, the essay-question portion of the application may be quite similar. While you can use parts of another essay, you may need to tweak it a bit to answer the essay prompt to the best of your ability. Meaning, copy and paste may not be the best way to handle similar essay prompts.
Brainstorm
Before you begin writing, take a moment to assess your accomplishments and life up to this point. You will need to be specific in the story you tell. Your statement should be fresh, different and memorable. A specific moment of interest or drama can be the angle or "hook" for the focus of your essay.
Use the following questions to bring memorable moments to mind:
What parts of your life story are special, unique, or impressive?
What angles of your life—personal, family, people, events—have impacted and shaped you (whether good or bad) into who you are today?
Why are you interested in this field? What led you to your interest and what knowledge have you gained from it so far?
What are your future career goals?
What failures have you met? How have you overcome or learned from them?
What personal characteristics do you have and how might these characteristics impact you in your chosen field?
What skills have you been able to develop?
What makes you stand out from other applicants?
What makes you interesting?
Format
Introduction
Your opening paragraph is vital in catching your reader's attention. Keep your introduction to 3-5 sentences and make sure to include your thesis sentence here. This will be the framework for the rest of your essay.
Body
Here is your opportunity to tell a compelling story. The body part of your essay should have between two and four cohesive and relevant paragraphs with strong topic sentences to help guide the reader. Emotion is a valuable tool to make your essay memorable. Try to stay away from information that is already included in your application. Use the body paragraph(s) to give the application committee insight into who you are and what makes you a valuable candidate.
Conclusion
The conclusion is where you need to wrap up your essay. You can review the points you already made or connect what you've already written to the future you see for yourself.
Word Count
Depending on your method of submission, the interface may only allow you to have a specific word count.
We think you'd also like...