These 5 Brands Are Giving Back in a Big Way
How much do you spend each year on unnecessary goods—that extra pair of jeans, or that handbag you had to have? Now, consumerism – a social ideology that values the promotion and protection of consumers - is hardly a new trend in American culture, but how often do you wonder if the companies you constantly give money to are ever giving back in some way? If you're looking to increase the impact of your dollar, check out these 5 companies that have some of the best strategies for giving back:
Burt's Bees
When it comes to giving back, not many companies do more than Burt's Bees. Currently, the lip balm company is running two large charity programs: Wild for Bees and The Burt's Bees Greater Good Foundation. The Wild for Bees program aims to raise awareness for the continued dwindling honey bee population by vowing to plant 1,000 wildflowers for every one of their Coconut, Pink Grapefruit, and Wild Cherry lip balms that are purchased. The Burt's Bees Greater Good Foundation, which has been running since 2007, also supports the declining honey bee population. The company donates ten percent of their profits to the foundation.
Love Your Melon
Fueled by its mission to help children battling cancer, Love Your Melon donates beanies, hats, and clothing to children in the United States who have been affected by cancer. Not stopping there, the headwear company also donates to several organizations who support pediatric cancer causes. One of the company's programs gathers colleges and communities, and gives them a platform to visit and brighten the day of children in hospitals.
Patagonia
The outdoors company has done more than just compete as one of the best companies to work for. Over Black Friday 2016 alone, Patagonia donated 100% of its sales "to grassroots organizations working to create positive change for the planet in their own backyards." The money the earned this Black Friday was also not a small sum - Patagonia broke records by earning and donating $10 million dollars.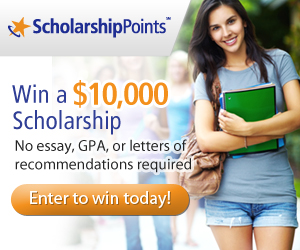 TOMS
Well known for their "One for One" business plan—where, for every pair of shoes purchased, the company donates one pair—TOMS also donates towards several other causes, such as charities protecting eyesight, childbirth, water, and even bullying prevention. Reaching over 70 million people, TOMS has partnered with more than 90 fellow giving groups in over 70 countries worldwide.
Serengetee
Inspired by travel and the cultures of the world, Serengetee not only makes each of its products with fabric collected from around the world, but the company also gives back 10 percent of its profits to numerous grassroot causes. Each fabric has its own story and charity it supports. These programs include ocean and reef rehabilitation, school-building for children in the United States, human trafficking deletion, and several other world programs.
Inspired to help make an impact? Check out seven other brands doing their part for the environment!
Win a $2,500 Scholarship!
Join ScholarshipPoints today and be automatically entered into our monthly $2,500 giveaway.