These Schools Have the Cheapest Out-of-State Tuition, So Get Packing
Unless you have the ability to indiscriminately throw money at your school of choice, the cost of tuition and fees can have a huge impact on your college options, especially if you're looking into getting your degree at an out-of-state school. To make things a little easier, I've compiled two lists, both with the help of US News, for you. The first list contains the names and prices of the schools with the cheapest out-of-state tuition. The second; a rundown of the 15 top-rated institutions in America, ordered by tuition and fees (for those of you dead set on the whole prestigious education thing).
Cheapest Out-of-State Tuitions in the US
1. Alcorn State University (Mississippi) - $6,552
2. Minot State University (North Dakota) - $6,568
3. Gordon State College (Georgia) - $6,761
4. University of Texas of the Permian Basin (Texas) - $7,866
5. Central State University (OH) - $8,096
6. Southwest Minnesota State University (Minnesota) - $8,336
7. Bemidji State University (Minnesota) - $8,386
8. New Mexico Highlands University (New Mexico) - $8,650
9. Dickinson State University (North Dakota) - $8,918
10. West Texas A&M University (Texas) - $8,959
Best Schools, According to US News - Lowest to Highest Tuition
(Keep in mind, the costs listed below are for tuition and fees for the 2016-2017 school year.)
University of North Carolina: $33,916
The College of William and Mary: $41,718
University of Virginia: $45,066
Princeton University: $45,320*
Harvard University: $47,074*
California Institute of Technology: $47,577*
Stanford University: $47,940*
Washington and Lee University: $48,267*
Massachusetts Institute of Technology: $48,452*
Swarthmore College: $49,104*
Yale University: $49,480*
University of Pennsylvania: $51,464*
Duke University: $51,265*
Williams College: $51,790*
Amherst College: $52,476*
*These colleges have the same tuition and fees for both in-state and out-of-state students.
Whether you're planning to pursue a degree from one of the top schools in the US, or you're just looking for the cheapest way to never set eyes on your hometown again, it's always good to know what your options are. Hopefully these lists have helped lay a foundation of knowledge to assist you in making that huge decision: which school will you call home this fall?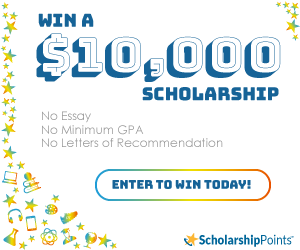 Win a $2,500 Scholarship!
Join ScholarshipPoints today and be automatically entered into our monthly $2,500 giveaway.