6 Nail Art Ideas to Show off Your School Spirit
The school year is in full swing, and there's no better way to show your school spirit than a chic design on your nails in your school's colors. Let's start this year with a bang!
We review and recommend products to help you buy the stuff you need. If you make a purchase by clicking one of our links, we may earn a small share of the revenue. Our picks and opinions are independent from any business incentives.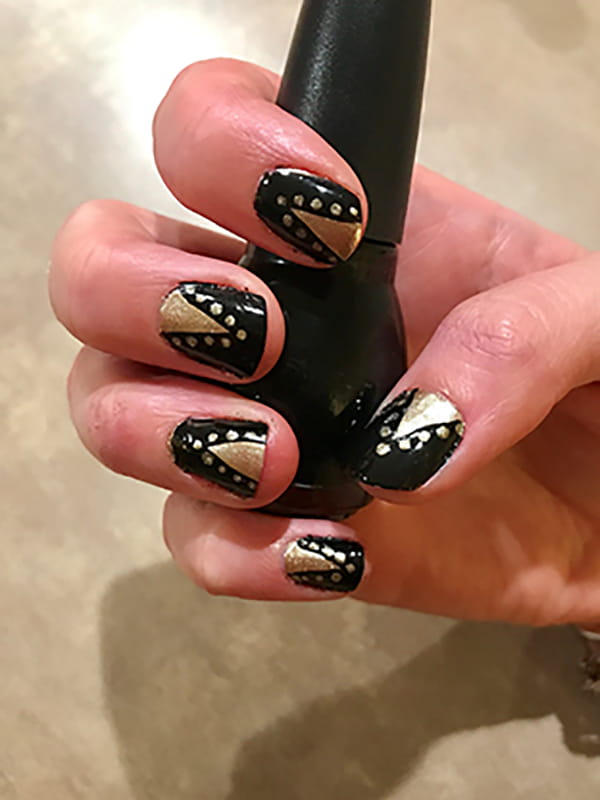 O.P.I. – Glitzerland
Sinful Colors – Black on Black
A fun and detailed design, this looks a lot more complex than it really is. Start with your base color (the lighter of the two), and then paint over it with the darker color, leaving a triangle of the base color exposed. You can do it free hand or use stripping tape as a guide. Then outline the triangle with dots in the base color using your dotting tool.
Diva Couture – Silver
Konad – Blue
A different take on the classic French Tip. Start by creating the French Tip in one color, and then use a thin brush to add the second color in a thinner line below the first one. Simple as that!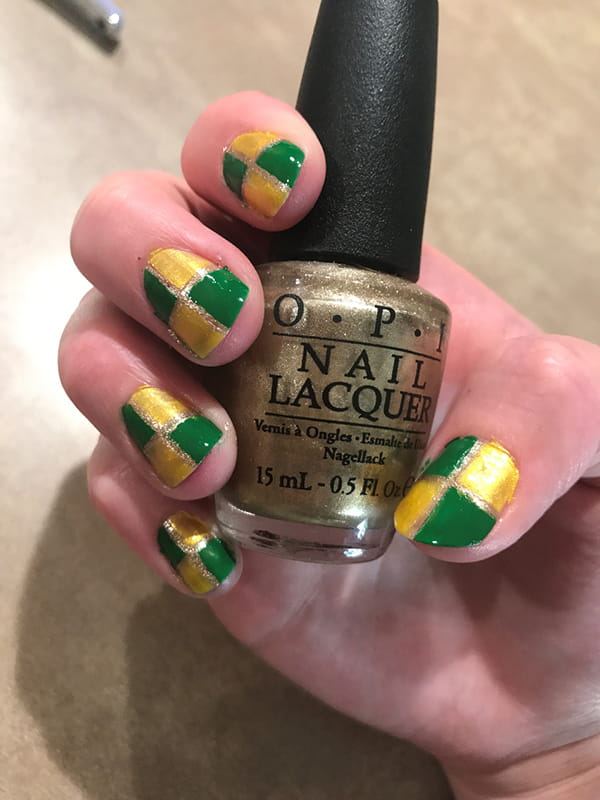 O.P.I. – Glitzerland
Wet 'n Wild fastdry – The Wonder Yellows
Konad – Green
This look can be completed in a couple different ways. The easiest way is to use stripping tape to divide your nail into 4 quadrants. Paint two diagonal quadrants one color and the other two the other color. Remove the stripping tape and use the third color to create a border between the colors. This design is perfect if you have more than two school colors or you want to add a little sparkle to the overall look.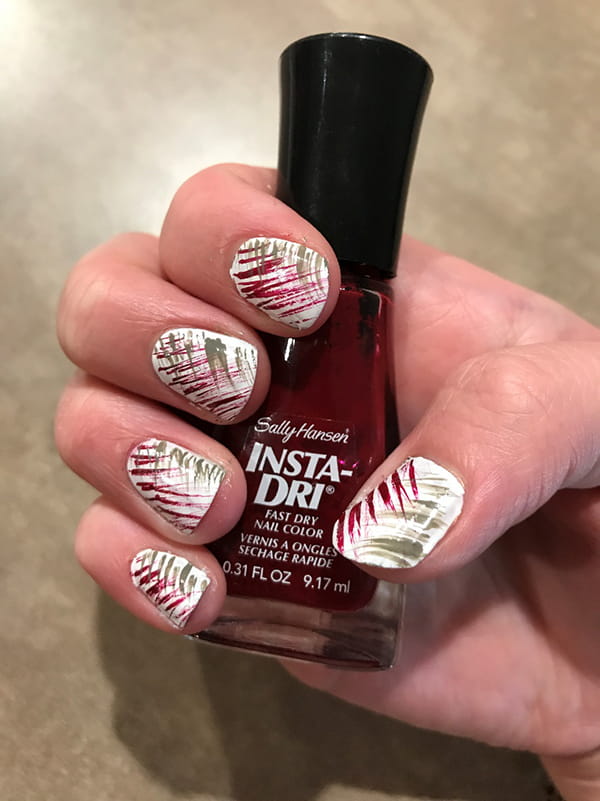 O.P.I. – Alpine Snow
O.P.I. – Suzi Takes the Wheel
Sally Hansen Insta-Dri – Cinna-Snap
For an effortless look that's a little more edgy, use a fan brush to create lines on your base color. This works well with two colors or more and leaves plenty of room for you to add your own creative spin. It's an easy way to highlight your school colors without wasting precious study time doing a more complex look.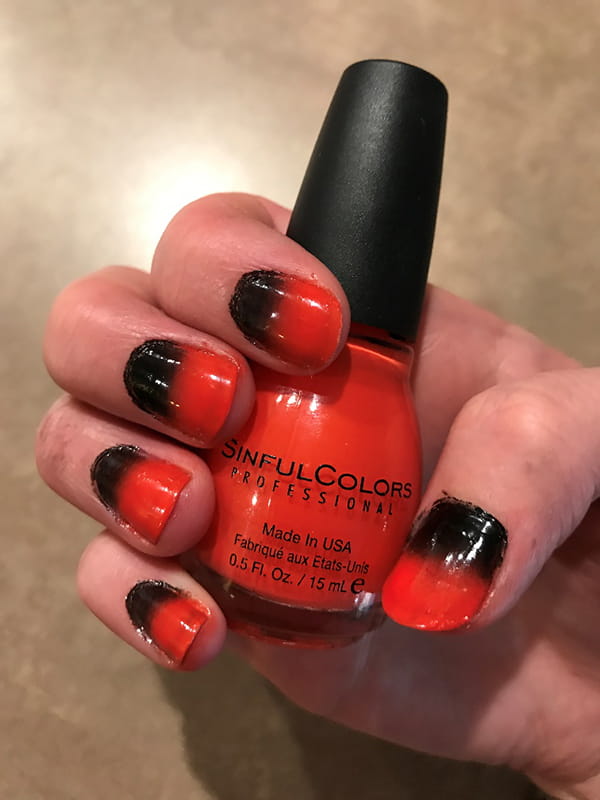 Sinful Colors – Black on Black
Sinful Colors – Big Daddy
It's hard to go wrong with ombre nails! If you have a little extra time, the result is worth the effort. This look makes it easy to incorporate multiple colors onto your nails without overcrowding it and ending up with a tacky mess. Use a wedge sponge to apply the polish. For lighter colors, multiple coats might be necessary.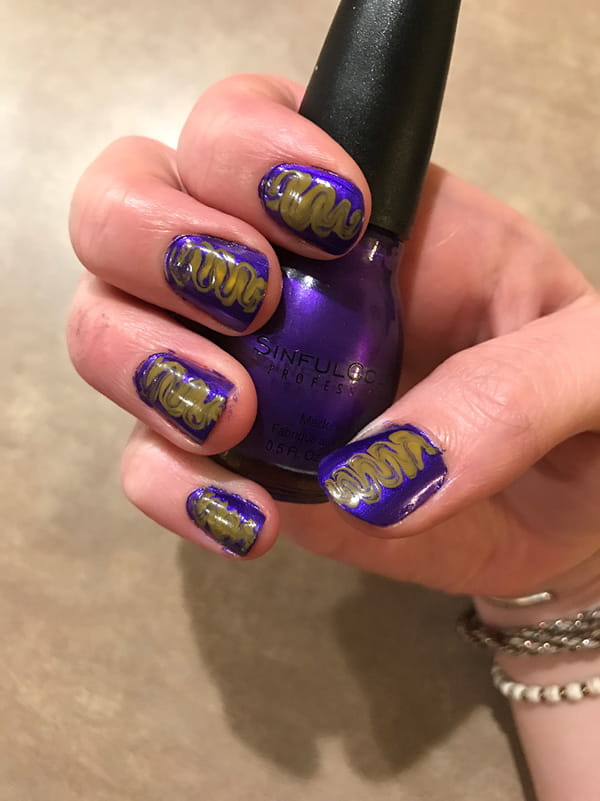 Sinful Colors – Let's Talk
Konad – Yellow
This design looks a lot more complicated and intricate than it actually is. Start with a solid base (it doesn't matter whether it's the darker or the lighter of the two colors). After the base dries, using the same color, paint a thin line down the middle of your nail, and while it's still wet, paint another line down the middle of the first line in your second color. Using a dotting tool, start at the bottom of your nail (by the cuticle) and blend the colors by drawing a squiggly line from one side to the next, all the way to the top of your nail. Since there are more layers of polish required for this to work, make sure you allow extra drying time to ensure that the design will be fully set.
Happy painting!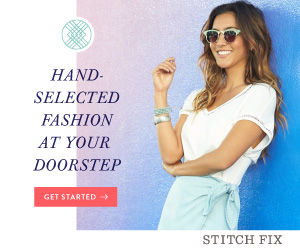 Win a $2,500 Scholarship!
Join ScholarshipPoints today and be automatically entered into our monthly $2,500 giveaway.