I Tried Going Vegetarian and This is What Happened
A few months ago, I somehow stumbled upon a documentary about the meat industry. I can't even remember the name of it, but it was about 30 minutes long and it scarred me for life. I always heard about how watching documentaries like this is how people choose to go vegan/vegetarian. Well – it worked. By the end of the 30-minute film, I was thoroughly disgusted, queasy, and ready to try out vegetarianism.
I have a few friends who are vegetarian/vegan and I've talked about wanting to try it out for years now. I was always scared that I would constantly be hungry or have low iron because of a lack of protein. I talked to my friends and they gave me a ton of awesome tips. So, I finally did it, and here's what happened.
I didn't go hungry
I haven't felt hungry once since starting my vegetarian diet. I found awesome ways to eat great amounts of protein, iron, etc., in my foods. Thankfully, I like most vegetables and I'm not a picky eater, so this made things easier!
Temptation isn't terrible
I thought I would cave at least once or twice, but I haven't even caved once! I accidentally ordered my usual sandwich at a deli one day and then realized that it had turkey on it, but that's the only slip up! (Don't worry, I took it off.) Going to restaurants and finding vegetarian options can be tricky, but I've always been able to accommodate my diet. Cooking for myself is even easier! Pinterest is an easy way to find tons of vegetarian meal options to cook at home.
I lost weight
Cutting so many fatty foods out of my diet (man, did I eat a lot of chicken nuggets) along with continuing with regular exercise helped me to lose some of the weight I've been trying to cut off for a while now!
Being vegetarian is a choice that I put off making for a long time, but I now feel infinitely better about making it. I feel healthier and I feel like I am making an impact by sharing my voice with others. There are so many great ways to learn about the meat industry and the impact meat processing makes on the environment that we are trying to protect! Do some research and join the over 300 million vegetarians in the world in helping to make an impact on climate change and animal rights.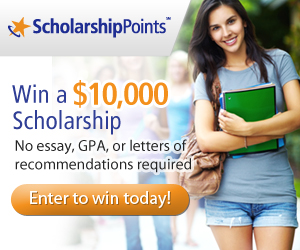 Win a $2,500 Scholarship!
Join ScholarshipPoints today and be automatically entered into our monthly $2,500 giveaway.