I Tried Cooking Thanksgiving Dinner With My Friends and This is What Happened
I moved to the United States when I was two, but my family still celebrates Thanksgiving by getting all of our family and friends together for a home cooked meal. Typically I would just cook an appetizer or a dessert, but last year I decided to try and up my game.
My four roommates and I invited eight of our friends over so that we could all spend Thanksgiving together since most of them were international students. At first I was really nervous to cook for so many people, but with a little bit of preparation it wasn't actually that bad. I used Pinterest to find some of my favorite recipes from when I was younger so that I could share some of my Scottish culture with all of my friends.
I'll be honest, not everything we cooked that day was edible, but spending so much time cooking Thanksgiving dinner with my roommates really brought us together. Our friends all seemed to have an amazing time, which made it even more enjoyable for us. If you aren't able to spend a holiday with blood relatives, don't worry, it's not the end of the world. Have Friendsgiving! Grab a bunch of good friends, get cooking, and create a tradition of your own!
Here are a few of the delicious and easy recipes that I used for side dishes last year:
Sweet Potato Casserole with Marshmallows
http://flavormosaic.com/sweet-potato-casserole-marshmallows/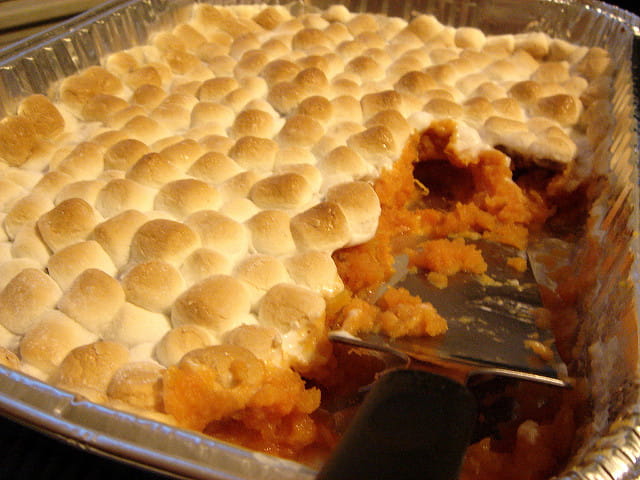 This fan favorite will always disappear quickly and it is super easy to make!
http://www.threekidsandcountingthepennies.com/simply-the-best-yorkshire-puddings/
These are a must during every Sunday meal in the UK. They are a little hard to explain but they are almost like a mixture of a croissant and a cake-like batter that is baked in the oven.
Parmesan Garlic Roasted Potatoes
https://therecipecritic.com/2015/06/parmesan-garlic-roasted-potatoes/
These are very quick to prepare, and the perfect combination of warm, crispy and flavorful. Also, they're roasted in the oven which makes it a healthy alternative to using a deep fryer.

Win a $2,500 Scholarship!
Join ScholarshipPoints today and be automatically entered into our monthly $2,500 giveaway.