I Traveled to Azerbaijan, and This is What Happened
I spent five weeks at the beginning of my summer vacation in Azerbaijan. Where is this country, you ask? Azerbaijan is a post-Soviet state in Europe that is located south of Russian, near Iran, Armenia, and Turkey.
My fiancé is originally from Azerbaijan, so we had planned in the beginning of the year to go and visit his family so I could meet them. I'll admit, I was a little nervous prior to our trip. I was going to a country where they spoke a language that I didn't understand, where the food was completely different, and where the culture was so much different from the United States.
Language Barriers
I tried to learn Russian by using Duolingo six months before we would be leaving. For me, it didn't help very much. It is a great app to try and learn some new words in a different language, but the app teaches you to pronounce words completely different than locals.
If you're traveling to a new country, my recommendation is to pick up a cheap English to whatever language you'll need dictionary at a bookstore (I got mine at Barnes and Noble for around $8) and just jump into it! I was also fortunate to have my fiancé translate for me because we were in more local areas instead of touristy spots. One thing I did notice, though, is that in many of the tourist spots, most people who worked there either spoke English fluently or were able to understand enough that you could get an answer for your question or request. The majority of restaurants I went to also had a copy of the menu in English, and once you asked for it, the waiters would understand and speak English or have someone help you that could speak English. Once I was immersed in the new language, I was able to pick up around 40-60 words. They weren't enough to create a sentence, but enough that I was able to communicate and the people I was talking to understood me.
If the biggest thing that's stopping you from traveling to a different country is due to them speaking a different language, forget about it! You can always find a way around it.
Azerbaijani Food
Another thing I was worried about was the difference with the food that they eat. I'll be honest here - I am a VERY picky eater. The biggest thing to remember is this: try everything, even if it doesn't look like something you would typically eat.
This is what a typical meal would look like if you were to go to a local kebab restaurant or café.
The top is a picture of what the appetizers and starters look like. Most tables are filled with fresh vegetables, cheese, and bread that's made in a special oven called a tandoori. My favorite combination is the bread with cheese and adjika (the red sauce that's made of tomato, garlic, and other spices). The other starter is Qutab, which is like a light tortilla with either meat, greens, or sometimes squash inside it. I tried it with beef, camel, and squash. I would highly recommend the squash one! The picture on the bottom is what a typical main course would look like. It's mostly a meat item. We had lamb kebab at this meal, but you can also get chicken kebab at most restaurants. The meal is always followed by tea and sometimes pastries and seasonal jam to go with it.
Cultural Differences
The last thing that I was worried about was not fitting in culturally. I had much different expectations of this second-world country than what I was actually presented with. Azerbaijan does not have an official religion, but the majority of people are Muslim. I was expecting all of the females to be wearing long clothes and hijabs even despite the warm temperatures. I packed mostly long skirts and lots of long-sleeved cardigans. But when I arrived, I was surprised that the majority of the women dressed much more European-like, and didn't wear what I was expecting. I was also worried about not knowing anything about the history, but I was fortunate enough that the capital city of Baku has a lot of historical places you can visit.
The new city is wrapped around the old historical buildings, which are only a ten minute walk to the Caspian Sea!
The capital is a mixture of old and new. I was expecting old roads and buildings, but areas like that are found more in the mountain regions.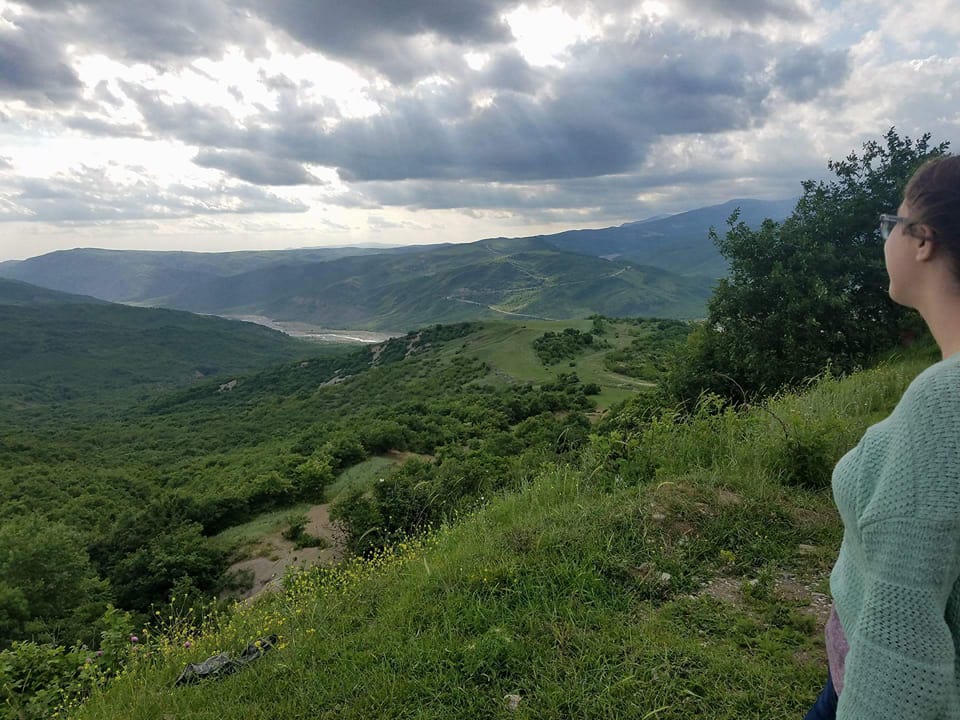 We went with our roommate to a city out in the mountains and it was a life changing experience.
In these regions especially, one thing that was a huge culture shock to me was that they don't use toilet paper. Instead, they have a hose or a vase of water and you use that to clean. I ended up buying my own toilet paper and carrying it with me.
The biggest thing that I noticed about Azerbaijan's culture is that family is very important. Big family meals are a common occurrence. I met a lot of people in Azerbaijan. There are so many amazing people in this country, and they are all so friendly and welcoming to strangers. Despite the differences in cultures, I managed just fine, and didn't feel as out of place as I expected.
If you had asked me before my trip - or even before I met my fiancé - if I had ever considered Azerbaijan to be a vacation destination, I would probably have said no. Now that I've spent so much time there, I would definitely go back. I enjoyed my experience so much that I hope more people will want to travel there. Whether you want to hike, enjoy museums, go to the beach, eat, or just relax, Azerbaijan has something for everyone. I never expected myself to fall so in love with this country, but that's what happens when you try new things! Find something or someplace that interests you and go for it! You will be amazed at what will come out of it.
Win a $2,500 Scholarship!
Join ScholarshipPoints today and be automatically entered into our monthly $2,500 giveaway.