How to Know If You Can Live with Someone
How to know if you can live with someone is a challenging question that everyone comes across at some point in their lives. Choosing a roommate is probably one of the most crucial things you do that is going to impact your daily life. They will either be a great aspect to your life, or be the biggest pain in your side. Knowing that this could go either way, you will want to be careful in selecting who it is that you cosign a lease.
Lifestyle and Finances
First things first. Before you start looking for someone to live with, you should take a look at your own lifestyle and finances. You want to find someone who will compliment your everyday life. A good place to start is with your daily schedule; if you have to wake up early to go to class or work you will not be happy with someone who's out late every night. Or if you go out a lot, or work at night, you will not want someone who may get annoyed with you interrupting their sleep schedule. Prioritize what parts of your current life are most important to you - no one is going to be the exact same way, but it will help to know what you value the most in your life before proceeding with finding a roommate.
Cleaning and Household Responsibilities
Cleaning and household responsibilities are what cause the most tension between roommates. Unlike your family, you will not feel as comfortable getting on your new roommate about not pulling their own weight with the chores. This can be especially bad if keeping things neat is important to you; the last thing you will want is someone who is constantly leaving their things everywhere. Try to go over to your future roommate's current place, and see how well it's kept. This will give you an idea of how they will treat the place you will share with them.
Personality
Not only do you want to see how their lifestyle may match yours, but you will also need to learn some things about their personality. For instance, an important thing to consider is if they are comfortable with confrontation. When living with someone, at times you will need to confront them about various living situations. If it's their turn to take out the trash or they are being too loud, you will want to be able to confront them about it without them taking it personally or getting upset.
At the end of the day, you will want to be looking forward to going home and relaxing. Having a good roommate is something that can help even your worst days end on a good note. Hopefully, you can now have an idea of what you are looking for when choosing a roommate.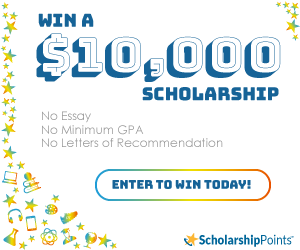 Win a $2,500 Scholarship!
Join ScholarshipPoints today and be automatically entered into our monthly $2,500 giveaway.