Here's How You Can Actually Afford to Study Abroad
Studying abroad can be an exciting and beneficial experience for any college student, but, often, the cost of such programs seems out of reach. However, with the right planning, and a few tips, getting the money together for a study abroad program can be easier than it seems.
Scholarships
Usually, schools that offer study abroad programs also offer study abroad scholarships. These scholarships are often partial scholarships, and may not cover the whole program cost, but every dollar counts! These program scholarships are also often first-come, first-serve, and are handed out after serious applicants apply for the study abroad program and scholarship.
School-sponsored scholarships are very helpful, but they are not the only scholarships a study abroad student can apply for. With some careful research and some time spent surfing the web, you can find tons of scholarships for studying abroad. Sometimes, these scholarships are very specific to a particular major and project/area of study, so if you do qualify, there probably aren't many other students who do. One thing to keep an eye on with scholarships is when the funds will be paid out, because if your program fee is due before the funds are dispersed, then you will have to first need to pay the fee(s) out of pocket.
Crowd Funding
For those unfamiliar with crowd funding, it is an application (like GoFundMe or KickStarter) that gives people a platform to propose projects that they need funding for. This application works best if you have a project or something to offer to investors at the end of your work. For example, an art student could work on art in their planned area of travel and then provide the investors with prints of the art when they return. When using GoFundMe or KickStarter, you set up a specific amount of money you need before a certain date, and if the funds have been met by that date, you'll be able to withdraw the money.
Sponsors
This is a little trickier to come about, but sponsors, such as a local company or other organization, may provide you with the funds to partake in such a trip. This may work best if you target companies that are interested in your area of study. Often, if a company has interest in your field, they may see this trip as a valuable training tool or even an investment for their company.
Overall, raising the money to study abroad can be very stressful, but with enough planning and lots of effort, it can become manageable. Later this year I will be studying abroad in Scotland, and, in my experience, planning and budgeting are key. When it gets hard, just remember how beneficial this will be for you. Good luck, and be safe!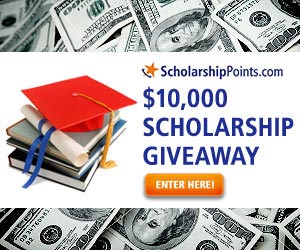 Win a $2,500 Scholarship!
Join ScholarshipPoints today and be automatically entered into our monthly $2,500 giveaway.