Here's Everything You Need to Know About the Trump Family
2017 is officially here, and Inauguration Day is right around the corner! Whether people like it or not, it's time to prepare for a Donald Trump presidency. Consisting of two daughters, three sons, and a wife, Donald Trump's family will soon take over the White House. Here's what you need to know about the Trump family:
Melania Trump, 46
Wife
The soon-to-be First Lady of the United States dominated the news a few months ago when she reused and plagiarized one of Michelle Obama's speeches during the 2016 Republican National Convention. Only becoming a United States citizen in 2001, Melania was born in Slovenia. This will make her only the second ever foreign born First Lady of the United States (after Louisa Adams, First Lady from 1825-1829).
Ivanka Trump, 35
Daughter
A former fashion model, Ivanka Trump is the daughter of Donald and Ivana Trump, his first wife. Nowadays, Ivanka works for her father with the Trump Organization as its Executive Vice President of Development and Acquisitions, where she focuses mostly on the organization's real estate endeavors. She is also the founder of her own fashion label, Ivanka Trump.
Tiffany Trump, 23
Daughter
Said to be named after the jewelry giant Tiffany & Company, Tiffany Trump is the only daughter of Donald and Marla Maples, his second wife. Tiffany spends her time modeling and singing, and also has a wide following on social media. She graduated from the University of Pennsylvania in 2016, where she double-majored in sociology and urban studies.
Donald Trump Jr., 39
Son
An American businessman, Donald Trump Jr. is the eldest son of Donald Trump and his first wife, Ivana Trump. Just like his sister Ivanka, Trump Jr. works as an Executive Vice President at the Trump Organization. He graduated from the University of Pennsylvania's Wharton School in 2000 with a degree in economics.
Eric Trump, 32
Son
Also the son of Donald and Ivana Trump, Eric graduated from Georgetown University in 2006, where he studied finance and management. Today, he works alongside his bother and sister as an Executive Vice President at the Trump Organization. He has also founded his own organization which raises money strictly for charity, which mainly supports the St. Jude Children's research center. Trump also owns a winery, and has worked on many projects involving the Trump Organization's many golf courses.
Barron Trump,10
Son
The only child of Donald and current wife Melania, Barron Trump is the youngest of the Trump children. Barron lives in New York, and it has been reported that he will not move into the White House just yet; opting to finish his school year in New York. At Trump Tower it is said that Barron doesn't just have his own room but his own floor, and the youngest child has been nicknamed the "mini Donald."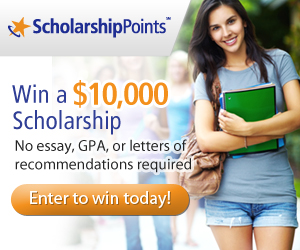 Win a $2,500 Scholarship!
Join ScholarshipPoints today and be automatically entered into our monthly $2,500 giveaway.