How to Meal Prep on a College Budget
We review and recommend products to help you buy the stuff you need. If you make a purchase by clicking one of our links, we may earn a small share of the revenue. Our picks and opinions are independent from any business incentives.
College is an exciting time full of spontaneous activities and adventures. I've found that when I'm not careful, I can become so caught up in life that I end up living off of granola bars and apple sauce - not the greatest diet. I love the idea of meal prep; it helps maintain portion control, keeps you on track for clean eating, and also makes for quicker meals throughout the week. However, I have no desire to set aside enough time to cook enough food for the whole week (plus do all those dishes). I typically prepare meals one to two days in advance. Perhaps instead of calling it meal prep, it's more like… creative leftovers. Here's the basic outline of my system, plus some healthy meal prep ideas:
Cook:
2 or 3 servings of meat
2or 3 servings of a carb (rice, pasta, quinoa, etc.) of your choice
2 or 3 cups of a vegetable of your choice
Once you have these cooked and prepared to your liking, separate into portions, and store them in containers that you can easily grab and heat up for a quick meal.
You may be grimacing at the thought of eating the same thing three days in a row - I feel the same way. Don't worry. You're not stuck in the land of bland. There are several creative ways to spice up your meals to take the same basic ingredients and create new entrées each day. Tortillas: I love tortillas. Throw some rice, meat, and veggies into a tortilla to create an awesome burrito. You can flavor it in so many different ways (hummus, avocado, garlic aioli, etc.) that you'll forget your base ingredients are all the same.
Lettuce wraps: Same idea as the tortilla, just a little healthier!
Sauce: If you love pasta, this is a great solution. Try mixing your meat and pasta with a sauce of your choice to make it even more tasty!
Stir fry: Throw your meat and veggies in a fry pan with a little oil and then pour over rice.
Soup: Add meat, veggies, and spices to a pot of beef or chicken broth and warm on the stove.
Condiments: Turn chicken and veggies into chicken salad, with some mayonnaise and seasonings.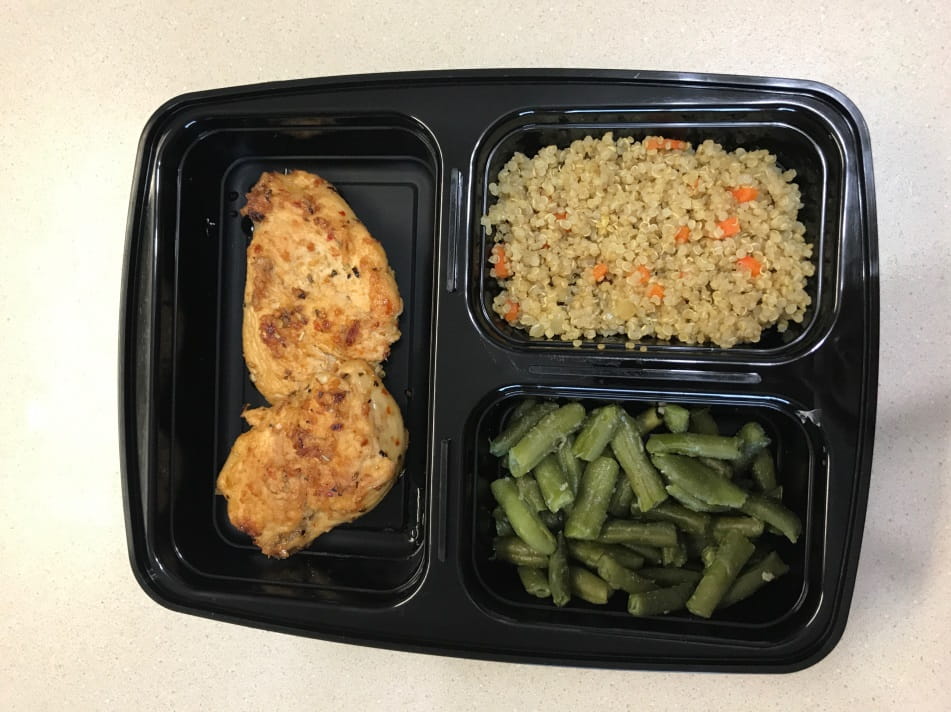 This is a meal I eat about twice a week.
It consists of: one small chicken breast (cut in half), quinoa with carrots, and green beans. I switch up the quinoa for rice and the green beans for other vegetables. I like to mix things up by shredding the chicken and putting it in a tortilla, or mixing it with pasta and covering it in sauce.
The container I used in this picture is from Amazon. It's a pack of 14 and includes lids and cute little containers for sauce, so you can easily keep your meals organized and your portions under control.
I've found this way of doing meal prep to be extremely convenient and the perfect fit for my busy college schedule! It also keeps me from resorting to hitting the drive-through. Don't be afraid to try new things and experiment with your ingredients. Food is a wonderful part of life that can be enjoyed to the fullest, even on a college budget!
Win a $2,500 Scholarship!
Join ScholarshipPoints today and be automatically entered into our monthly $2,500 giveaway.