4 Healthy Dining Hall Hacks
Living off of a dining hall diet can have a lot of repercussions on your health. It's often easiest and cheapest to get ahold of unhealthy meals full of empty calories, but this isn't how it has to be! I've rounded up four hacks to get the most bang for your buck out of your university dining hall experience.
1: Know your budget
This is a really important one. If you're operating on a self-made budget and can barely afford to eat in general, then the dining hall won't be able to do much for you. You're better off just shopping healthy grocery alternatives. But if you're working with a meal plan, or if you've got a bigger budget and eat on campus all day, every day, then you're set! It's a good rule of thumb to set a daily or weekly allowance, no matter how much you have to spend. This will help you be more conscious of your meal decisions, which, in turn, will lead to healthier decisions. It's a simple concept: the more you think about what you're eating before you get it, the more likely you are to choose something a bit better for you!
2: Explore your options
Most college/university campuses have a ridiculous amount of options, either in a large mall-like cafeteria, or distributed around campus. Take the time to explore these. Take notes mentally of all the options you have, and where those options fall in your budget. Once you know what your options are, it makes life a lot easier when it comes down to eating time.
3: Find your healthy
No one person's body is the same, and so it stands to reason that what is healthy for one person will not be healthy for another. Really sit yourself down and decide what foods you truly believe are good for you, and recall the foods that make you feel good inside and out. It's also good to figure out what foods have the opposite effect so you know to avoid them. With these things in mind, you're ready to get down to the hardest part…
4: Pick your poison
While that heading is obviously in jest, it does make a point. It's doubtful every meal you find will be perfect. You might feel like the Asian counter is a good bet for healthy food, but find that they're only serving fried foods that day. The Mexican place might be nothing but smothered bean burritos, served with enormous amounts of refried beans and rice. It's going to happen. But remember that you can generally find a place that fits your needs. Look for foods that are colorful. Foods where the meat is visible and not covered in breading or batter. Find a place where you build your plate, so you can choose a side that fits your ideal diet, rather than a standard side dish that not be what you're really looking for.
So, there you have it! Four tips to help you make more mindful decisions when it comes to your college dining hall experience. I wish you the best of luck out there, and remember, you are what you eat, so don't be cheap, quick, or easy.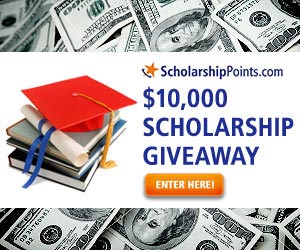 Win a $2,500 Scholarship!
Join ScholarshipPoints today and be automatically entered into our monthly $2,500 giveaway.