De-Stress with 5 Yoga Poses Literally Anyone Can Do
Yoga by Dave Rosenblum licensed by CC BY 2.0
Spring break is over, and summer right around the corner… you know what that means; finals are coming. With final exams approaching quickly, it's totally normal to feel a little (or a lot of) stress. While stress is normal, it's not very good for you. It can lower your immune system's defenses (making you more prone to get colds), make you feel tired and groggy, and cause you to be less focused – the last thing you need when you have to be focused on studying! Luckily, there are ways that stress can be controlled. When you feel a wave of stress coming on, yoga can be a simple way to wind down. These five poses are practically guaranteed to relieve some of that stress (and don't worry – even non-yogis will easily be able to do these!).
Child's Pose
One of my personal favorites, the child's pose is probably one of the easiest yoga poses to do. Lay out a mat, blanket, or towel, and kneel down. Stretch your arms up and breathe in deeply through your nose, then breathe out slowly as you stretch your arms down, in front of your knees. Stay in this pose for anywhere from 30 seconds to a few minutes.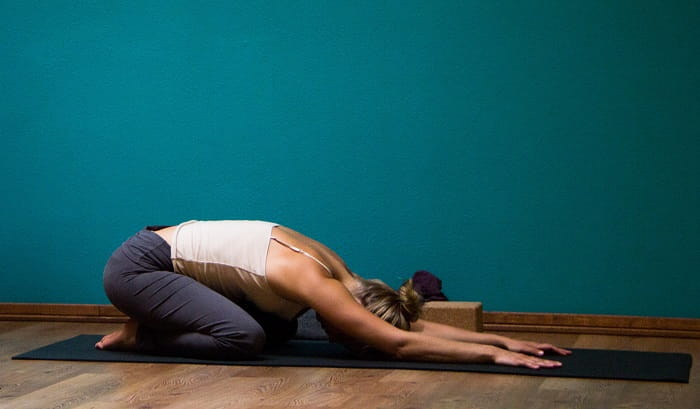 Child's Pose by Anne Wu licensed under CC BY-SA 2.0
Cobra Pose
Lie down on your stomach. Bring your elbows back towards your armpits and press down, lifting your chest. Roll your shoulders back and lift your chest and abdomen, while leaving your hips pressed to the mat. Hold this pose for 15 to 30 seconds.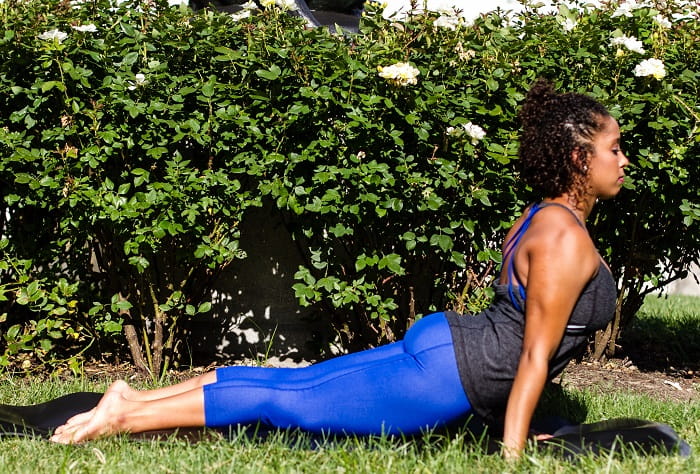 Yoga by Dave Rosenblum licensed by CC BY 2.0
Legs-Up-the-Wall Pose
All you need for this pose is a wall and a comfortable surface to lay on. Place your mat or blanket in front of a wall. Lie down on your back, and lift your legs against the wall. Your butt should be as pressed as close to the wall as possible, and your arms should be outstretched. Hold this pose for up to 5 minutes while focusing on relaxing breaths.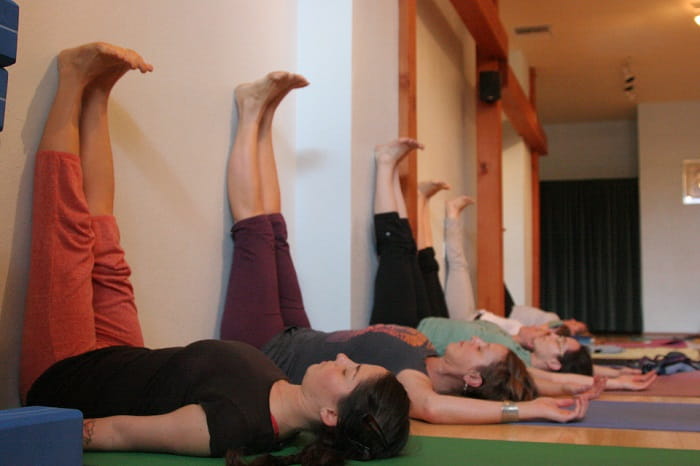 Viparita Karani 12510-w-52 by kellinahandbasket licensed by CC BY 2.0
Corpse Pose
While this pose may seem a little dark and scary, it's actually incredibly easy and relaxing. Simply lay down on your back, spread your legs a little, so that they are not touching, and bring your arms away from your sides. Turn your palms so they're facing up and close your eyes. Breathe deeply and slowly through your nose. Hold this pose for 3 to 5 minutes.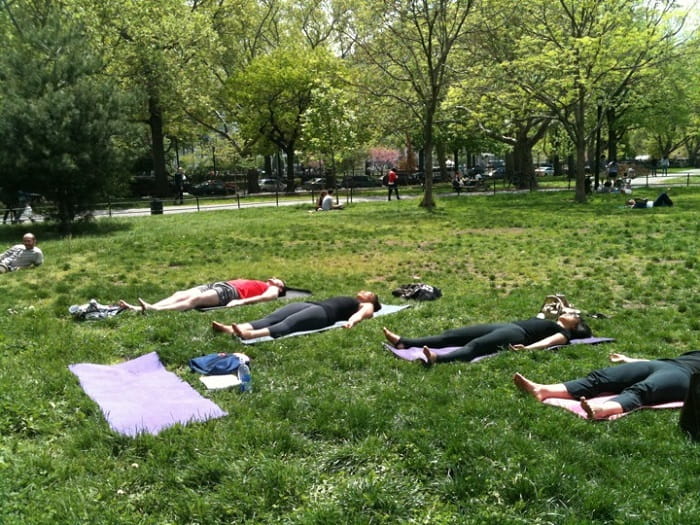 Shavasana @ the end of my 1st class by Courtney Boyd Myers licensed by CC BY 2.0
Cat and Cow Poses
Technically, these are two different poses, but they are often used together. Begin with the cat pose: staying on all fours, draw your belly towards your spine. Round your back towards the ceiling and look down, keeping your neck relaxed. Then, get into the cow pose: get on all fours and arch your back. Lift your head up and bring your chest out as you inhale. Repeat both poses 10 to 20 times, at your desired speed.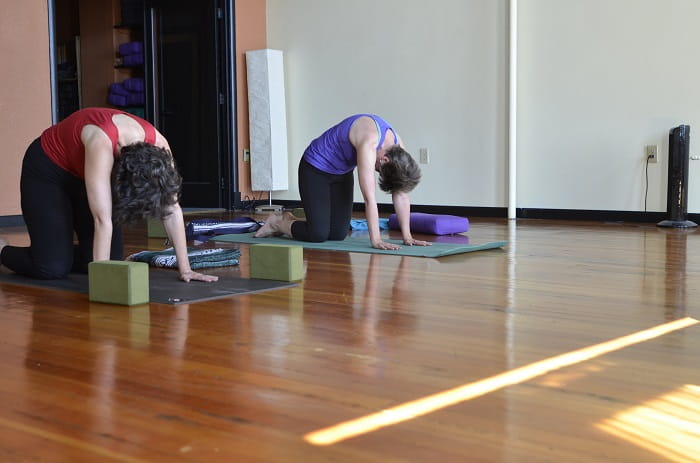 YogaSoldier5 by JBLM POA licensed by CC BY-NC-SA 2.0
Win a $2,500 Scholarship!
Join ScholarshipPoints today and be automatically entered into our monthly $2,500 giveaway.