Career-Specific Resume Tips for Soon-To-Be College Grads
Writing a resume can be a daunting task for any job seeker, but it is especially important for recent (or soon-to-be) college graduates to have a stellar one – as, oftentimes, we struggle in the coveted "experience" section. To make up for this, here are some tips to boost your resume, and help you go from college to career in no time.
If you're graduating with a degree in business…
Business administration and business management are some of the most popular degrees amongst recent graduates, so it's especially important to distinguish yourself from other applicants if this is your chosen field. In order to do this, US News and World Report suggests that business students use the "STAR" method for organizing their resumes. In this approach, you will list your experiences by considering the situation, tasks, actions, and results (STAR), in that order. Using this will help organize your thoughts, and clearly portray your accomplishments in innovation and problem-solving. The more experiences you can apply the "STAR" method to, the better.
If you're graduating with a degree in the arts…
Arts students often head for careers that don't perfectly align with their majors. If this sounds like you, it is important that your resume highlights relevant information. Cater to each company you are applying to, so that each resume is unique and displays only your accomplishments that are related to the specific position.

If you are limited in your relevant work experience, it is acceptable to highlight your successes in a field other than the one you are applying to – but, be sure to point out how these achievements can transfer into your future job. Perhaps you showed great leadership skills that can transfer into the new work environment, or maybe your dedication to another project is what pushed it forward into success. Either way, be sure that in your cover letter, on the actual resume, or in the follow-up interview, you tie your unrelated accomplishments into the new field for your potential employer.
If you're graduating with a degree in the humanities or liberal arts…
You likely entered your major field because you are extremely passionate about your interest – whether it's history, English, or even feminist studies. Quintessential's LiveCareer.com insists that former humanities students market that passion, and don't hold it back from their future employer(s). Your enthusiasm will excite your interviewer, and your dedication to your chosen field is a great selling point. Plus, be sure to add any special skills you learned from your degree, like written communication or public speaking, as these can be the difference between you and another competitive applicant.
If you're entering the field of engineering…
It is particularly important for your resume to be relevant if you are entering this field, because a lot of your work will be direct and hands-on. The University of Virginia (UVA) suggests to their engineering graduates, especially, that they include any projects they were involved in during their years in college that directly relate to the job they are applying for. It is also acceptable to emphasize your education section if you're applying for a job in this field, so feel free to include points like a particularly high GPA, or participation in an honors program. Remember: all of your competitors have the same degree you do, so it's important that you market yourself as an already-accomplished worker, not an up and coming engineer.
If you're entering the field of education…
Monster says that the most important trait that a teacher can have is a passion for educating – and this needs to show in your resume. Explain your teaching philosophies, and don't hesitate to mark if you have any additional certifications or special interests. For educators, adaptability and enthusiasm are most of the job, so let this shine through in your resume.
Monster also recommends that aspiring teachers list their accomplishments clearly, if you have any that are relevant. If you turned around a whole classroom of unmotivated kids, that's something your hiring principal needs to know! Seemingly small feats like this will show your passion and distinguish you amongst hundreds (if not thousands) of other applicants.
If you're entering the health professions…
Resume Edge urges that you consider the format of your resume above all else. For administrative work in the healthcare industry, a typical resume may be sufficient – but those going into physical care, like upcoming doctors and researchers, will need a curriculum vitae style resume (commonly known as a CV). Academia is key here, so highlight what you've studied, and any on-site experience you may have, as you likely will have less discrete accomplishments and more specific knowledge than in other fields.
Across all fields, be sure to double (and even triple) check your resume for any typos or grammatical errors, or things that just don't seem right. Your resume is a representation of you, so make sure it's the best it can be. Sell yourself in your resume by making it short, sweet, and powerful, as you head from the safety of college into the increasingly competitive job market.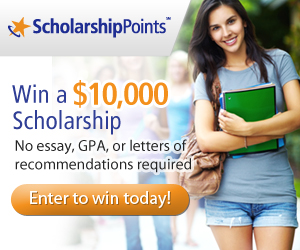 Win a $2,500 Scholarship!
Join ScholarshipPoints today and be automatically entered into our monthly $2,500 giveaway.