4 Ways to Give Back Over Spring Break
It's easy to waste spring break partying, drinking, and forgetting about responsibilities, but it's also possible to spend your spring break helping others and giving back to the community. Alternative spring break programs set up volunteer opportunities that provide a hiatus from school, offer travel opportunities, and give students a chance to get involved and help tackle some of the issues plaguing the world and their local communities. Donating time and energy to a cause you're passionate about is an easy way to make spring break a little sweeter than it already is. Not to mention, that volunteer experience never looks bad on a resume.
Here are some ways to get involved over break.
Contact Your School
Many colleges and universities sponsor their own alternative spring break trips. Sometimes different academic departments even offer different destinations or activities depending upon their major's interests. An architecture program might build houses, while an environmental science program may clean up a polluted river. Peek around bulletin boards for flyers or check your spam folder for emails about groups that still need volunteers, and contact the necessary people as soon as possible. You'll want to start planning your involvement in an activity like this long before spring break starts. Travel arrangements, especially to foreign countries, take time to prepare. You'll want to make sure you'll have all the necessary paperwork and supplies when the time comes.
Talk to Your Church
Some faith-based organizations conduct mission trips to impoverished areas outside the country that often coincide with the date range of spring break so that students are more likely able to attend. If you don't have the money or means to travel, organizations can not only help you raise money to afford the costs, but they can also provide plenty of opportunities to get involved on the local level as well. Many sponsor food drives, fundraisers, or other events that benefit the community or the organization's participants specifically. If the organization isn't sponsoring anything itself, its members can probably point you in the direction of another group that is.

Organize Your Own Activity
With a group of people, anything is possible. Organize a river clean up. Get permission to plant a few flowers at the park. Run a fundraiser and donate the profits to a charity. There are countless numbers of ways to get involved, and it's even more rewarding when you get to do it while also spending time with your friends.
Run a One-Man Operation
It's no lie when your professors tell you that one person can make a difference. Take a few days out of your spring break to head down to the local soup kitchen or animal shelter. Search for non-profit organizations in the area and get in touch with someone about coming in and volunteering. Places like these are almost always low on volunteers and appreciate anyone willing to lend a hand. The people that run them can also be great references to put on a job or scholarship application, too. Make lasting connections, and you can make a difference for yourself while making a difference for others in the process.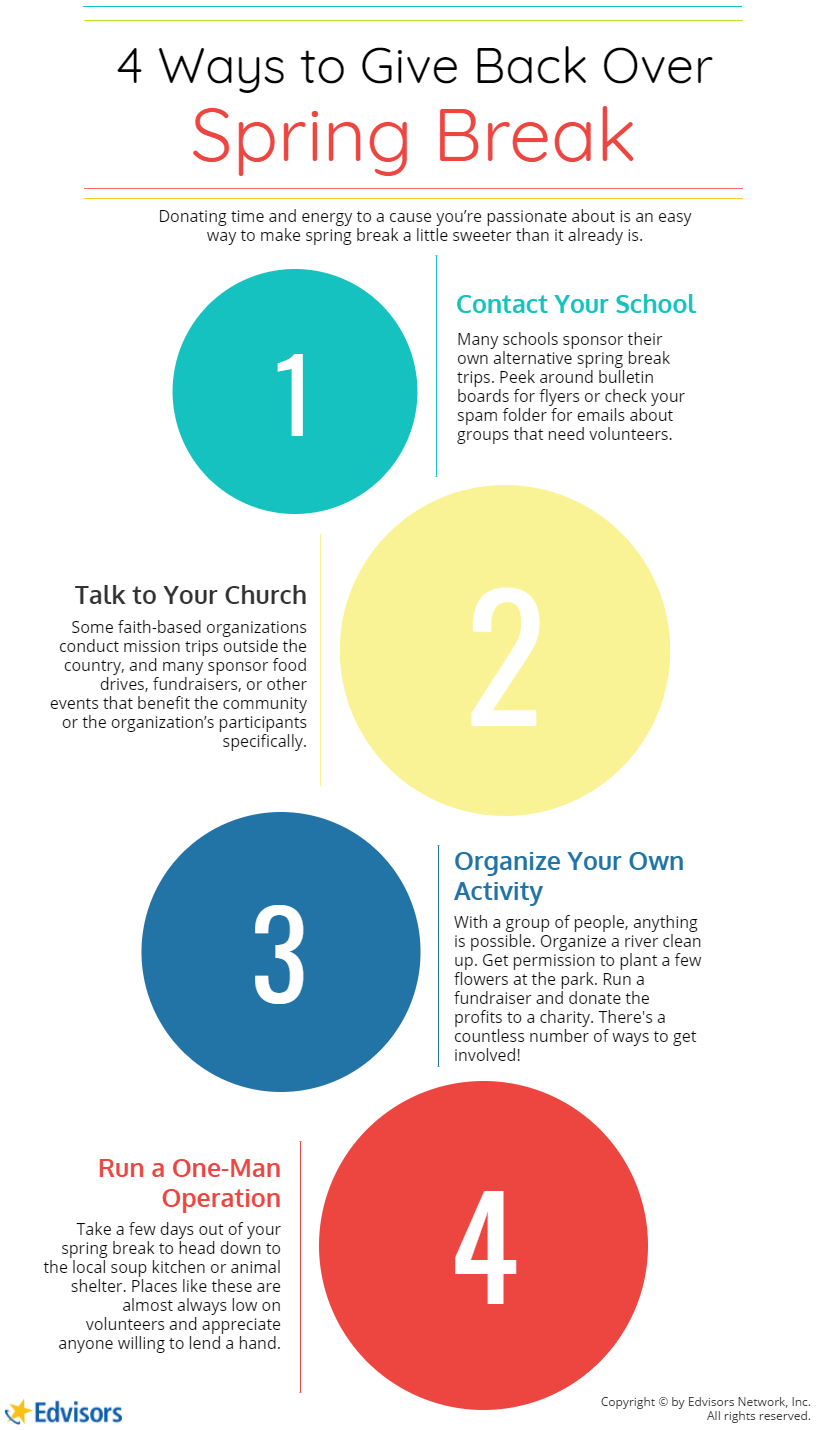 Win a $2,500 Scholarship!
Join ScholarshipPoints today and be automatically entered into our monthly $2,500 giveaway.