9 Ways to Save Money on Working Out
We all want to get in shape and lead healthier lives. Spending loads of money to do it? Not so much. Luckily, there are plenty of ways to work out on the cheap, so if expensive gyms and trendy fitness studios aren't your thing, we've got you covered.
We review and recommend products to help you buy the stuff you need. If you make a purchase by clicking one of our links, we may earn a small share of the revenue. Our picks and opinions are independent from any business incentives.
Exercise Outside
There are tons of good workouts you can do just by going outside. Try to come up with creative ways to work out while getting fresh air. Buy a hula-hoop, take a walk, or jog around the block. You could even save money on transportation by riding your bike to the store or work.
Exercise in Your Home
There are so many ways you can get creative and work out right in your home, too. Just make sure you have a space cleared out so you can move freely. You can do some crunches, squats, push-ups, lunges, yoga…whatever you want! Research some at-home workout routines on YouTube. There are many different exercise videos you can try if you want to rotate workouts through your week.
Check out some of this affordable in-home equipment:
Take Advantage of Student Perks
Most schools let students use their gym for free, and it's not just limited to students who live on campus! If you'd rather try something new, you can also see if there are any free exercise classes coming up on campus. Check out clubs too. Many schools have intramural clubs like ultimate Frisbee, touch football, and even Quidditch.
Look for Student Discounts
If you'd rather go off campus, see if any local gyms or studios offer student discounts! It's an easy way to save a few dollars just by pulling out your student ID. Most Gold's Gyms and 24 Hour Fitness, for example, offer student discounts at various locations.

Share a Trainer
Find a workout buddy and hire a trainer together so you can split the cost. You'll spend less, get some guidance and develop a fitness plan that works for you, and have a partner to work toward it with!
Buy Your Own Weights
Weights are important when exercising because it helps to you to work harder, instead of doing the same basic routines. Instead of relying on a gym, you can buy your own weights from places like Amazon or Target for cheap prices.
Shop at Cheaper Stores
Nike and Lululemon may be what all the fitness bloggers wear, but pricey workout clothes aren't an option for all of us. Instead of spending all of your money on high-end brands, check out some discount stores like Target, Marshalls, or Famous Footwear. They always have trendy gear that won't wear out quickly. Plus, buying new workout clothes is a great way to motivate yourself to get out and show them off!
If you have a prime membership, use it! Here are some great deals on workout clothes from Amazon.
Try Free or Discount Exercise Classes
Research some fun work out classes near you, like CrossFit or Zumba. Some classes allow you try certain days for free, and then you can decide if you want to stay or not. Checking Groupon is always a good idea, too! You can often find deals for a block of classes at heavily discounted prices.
Try Meetup
Meetup is a great way to meet new people and try a new activity. Many meet-up groups have equipment available to their members, and people with passion and experience who would love to introduce you to their favorite activity.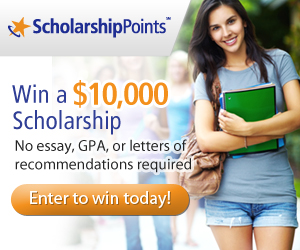 Win a $2,500 Scholarship!
Join ScholarshipPoints today and be automatically entered into our monthly $2,500 giveaway.