9 Movies to Watch When You're Feeling Down
Everyone gets those days when they're sad, not in a good mood, having a bad day, or just bored. So what do we do? We want to find an escape. When you're just not feeling it, check out some of these movies guaranteed to lift your spirits (or, you know, give you something to cry to).
10 Things I Hate About You
This romantic comedy film is a modernized version of Shakespeare's comedy The Taming of the Shrew. It's about a girl who struggles to avoid her father's strict dating rules when she meets a bad boy, Patrick. This is a fun movie to watch when you're down.
Clueless
This is a classic 1995 comedy based on a young, attractive, rich, and popular girl who finds herself at the top of the high school social scene. She tries to give advice to her friends and step-brother, and even plays matchmaker with her teachers. In this great coming-of-age film, she tries to figure out what she really wants, and you'll love to be right there with her.
The Fault in Our Stars
I'm not the type to watch emotional movies when I'm down, but if you're the opposite, this movie (based on the book of the same name by John Green) is definitely the one to see. The movie is narrated by a sixteen-year-old girl, Hazel, who has cancer. She soon falls in love with a guy named Augustus, who she meets in a support group. If you haven't seen this movie yet, I don't want to ruin it for you, but I did enjoy it very much.
The Secret Life of Walter Mitty
The 2013 film stars Ben Stiller and Kristen Wiig. This is a great movie about getting out of your comfort zone. It's based around Walter Mitty, who works at Life magazine and has a desire for adventure. He develops a crush on one of his coworkers, but is too shy to ask her out. As difficulties arise within his job, he finds himself on an unbelievable adventure to track down the person who can help.
Bring It On
This movie is about a competitive cheerleading squad, romance, and high school. It stars the beautiful Gabrielle Union, Kirsten Dunst, and Jesse Bradford. The cheerleading in this movie is excellent, and the drama is even better.
The Sitter
If you're in the mood for nonstop laughing, The Sitter is a great choice. This movie is not about your average babysitter. Starring, Jonah Hill, J.B. Smoove, and Samira Wiley from Orange is The New Black, this rated R movie will keep you anxious for what's coming next.
The Hangover
The Hangover is another hilarious comedy that tells the story of four guys who go to Las Vegas for their friend's bachelor party. As you can probably guess, the friends get out of hand with no memory of what happened. Their journey of putting the pieces of the night before back together and getting back in time for the wedding is hilarious.
Toy Story 3
Yes, this movie is on the list! There were many people who became emotional watching Andy grow up and leave his toys, ones that we've come to know and love, behind. This is another great, emotional movie to watch when you're down.
Dead Poets Society
I haven't seen this movie in so long, but it stars the legendary Robin Williams, who teaches young boys life lessons through poetry. This movie is known for its iconic chant by the students as they stand on desks shouting, "Oh Captain, My Captain."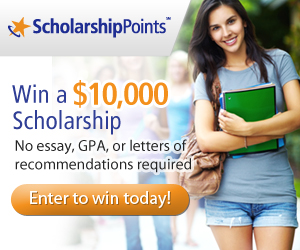 Win a $2,500 Scholarship!
Join ScholarshipPoints today and be automatically entered into our monthly $2,500 giveaway.