8 Ways to Easily Reduce Waste in Your Home
Recycling Troopers by Alan Levine licensed by CC BY 2.0
If you have any friends who are studying any type of Environmental Studies, I'm sure you've heard a lot about sustainability. With climate change affecting our world daily, the policy changes regarding the protection of our earth have been detrimental. It's hard to know what you can do to help your environment. There are a lot of ways to make your life more sustainable by reducing the amount of waste you produce. Here's how:
We review and recommend products to help you buy the stuff you need. If you make a purchase by clicking one of our links, we may earn a small share of the revenue. Our picks and opinions are independent from any business incentives.
Get a water bottle
Using a reusable water bottle is such an easy way to reduce plastic waste. Instead of buying cases of plastic water bottles, get a reusable one. I'm a big fan of my Camelback water bottle..
CamelBak Eddy Water Bottle, $13.27
Get a coffee mug
Like number one, I have found that using a reusable coffee cup reduces a lot of waste. As a coffee addict, I was buying a lot of it, filling my trash can with Starbucks cups. Many coffee places also give you a discount for using your own cup, so it saves you money while you save the planet!
ZYLISS Travel French Press and Coffee Mug, $9.99
Unsubscribe
Reduce the amount of unwanted mail you receive by going online, calling magazine companies, or using The Direct Marketing Associate to permanently take your name off mailing lists! If you have a paper shredder, you can shred the junk mail you do get and use it for packing material when you send gifts back home.
AmazonBasics 6-Sheet Cross-Cut Paper and Credit Card Shredder, $29.99
Use reusable shopping bags
Almost all grocery stores sell reusable grocery bags for a few dollars. Buying yourself a few and bringing them every time you go to the store will save so much plastic from bagging your groceries!
Reusable Reinforced Tote Bags - Set of 4, $15.00
Pack your lunch
Packing my lunch has saved me a ton of money, but also helps us save a lot of trash! Packing my lunch in reusable containers and a lunch box is super easy, plus, it saves trash from fast food places and restaurants (all those take-out boxes and bags). Additionally, I just learned of a cool way to keep your food fresh – in a sustainable way! A new product called Bee Wrap is just like plastic wrap but made from organic cotton infused with beeswax. Yes please!
EasyLunchboxes 3-Compartment Bento Lunch Box Containers, Set of 4, $13.95
Mziart Reusable Cotton Lunch Bag, $8.99
Recycle correctly
Do some research on what can and cannot be recycled in your area! This will help you reduce your waste by huge portions when you know just what you can throw in your recycle bin. Check the numbers on the bottom of your plastic containers and take out your frustrations by crushing your cans. It's ridiculously easy.
Recycle Bin Waterproof Waste Baskets, $12.95
Reusing old clothes
Use old clothes for rags around the house instead of a ridiculous amount of paper towels that fill up your trashcan! Many thrift stores and consignment shops aren't interested in the fast-fashion favored by most college students, but just because you're done wearing it, doesn't mean you can't use it again.
Composting
Purchasing a compost bin and throwing your food waste into it instead of the trash can is a great start to reducing the waste in your home! Compost can be used for your own garden, or you can look up a local community garden that will be willing to take your compost – that's what I do! It's easy to get started. Check out this link to guidelines for what can and cannot be composted.
For more information about trash production and what we can do to help, watch this video by Stories on Youtube.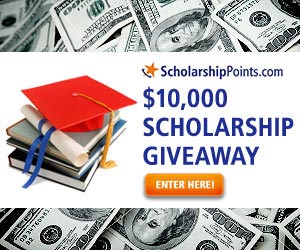 Win a $2,500 Scholarship!
Join ScholarshipPoints today and be automatically entered into our monthly $2,500 giveaway.