7 Ways Commuter Freshmen Can Get to Know Their New School
Despite what the movies may have led you to believe, not everyone has the same college experience. While residential freshmen living on-campus get to hang out at spontaneous, late-night gaming sessions and endless new-student mixers, commuters often feel left out. But even those of us who don't get to enjoy community showers and tiny dorm rooms deserve the full college experience, so here are some ways we can get as much out of these undergraduate years as our residential classmates:
1. Attend move-in week events.
It is likely that your school provides dozens of meet-and-greet events during the first week that residential students are on campus, and most of them will be available to you, as well! Try to attend at least a few movie nights or school-sponsored parties. Who knows, you might meet your new best friend (or a cute campus crush)!
2. Join a club.
One of the best ways to get involved in campus life is to join a club or organization on campus, or even the Greek system. Not only will you meet a ton of potential friends, but you'll feel like you really belong on campus as part of your school community!
3. Try something new.
You're meeting a ton of new people — why not get involved in a new event? Try an intramural sport, or a club you've never heard of before, or even go out of your comfort zone and participate in a karaoke contest! There will be loads of events on campus during the first weeks of (and throughout) the school year, so you'll have plenty of opportunities to meet new people doing new things. Plus, you may even find an interest that you never would have considered!
4. Attend a sporting event.
There's no spot on campus that you can find more school spirit than on the athletic field. Check out an early season football game (or other sporting event) to meet passionate students that you may not otherwise get to know. You can bond over cheering on your new favorite team!
5. Get to class a little early, and stay a little while afterward.
Instead of rushing to class at the last minute, and rushing back home once class is over, stay a little while and get to know your classmates. If your class is a General Ed, odds are there will be a lot of interesting people with varying majors and passions to get to know, and if the class is in-major, most of your classmates will probably have similar interests as you! These can be your best friends (and awesome study partners) if you take the time to get to know them.
6. Do your homework on campus, instead of at home.
Whether you choose to go to the campus coffee shop, a local hotspot, or even the school library, studying at your school can help you feel a lot more connected with campus life. Students and faculty can approach you to have conversations about school and life off-campus (which is a great way to make lasting relationships and find study partners), plus, no matter where you are on campus, you'll have a plethora of resources available to you just a short walk away!
7. Keep an open mind.
Finally, the best way to make yourself feel at home in college is to be open to new people and activities. You'll probably be exposed to different cultures and traditions that you've never seen before, meet a bunch of people who have differing opinions, and learn about a lot of activities that you didn't even know existed. The goal of college is to expand your mind, so work at that from the start by staying open to meeting new people and trying new things. If you can do this, you can have the time of your life in college!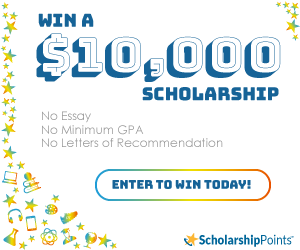 Win a $2,500 Scholarship!
Join ScholarshipPoints today and be automatically entered into our monthly $2,500 giveaway.