7 Texts You Only Send Your Dad
1. "Something is wrong with my car."
When it comes to cars, Dads are great at troubleshooting problems, and are often good mechanics. It's handy to have someone around for whenever you need an oil change, to politely tell you there's no such thing as blinker fluid, and to show you how to replace the windshield wipers. If you can manage to explain the problem or imitate the noise your car is making, they'll probably know exactly what is wrong.
2. "How do I fix…"
Dads are fixers. It's in the Dad handbook. If you need someone to just listen, text your mom. If you're looking for a solution, Dad is your guy. Their skills stretch past just mechanics, and they're most likely also handy with plumbing, electrical, and building things. In addition to the hands-on fixing, their creative way of thinking and on the ball comebacks can fix a bad attitude, a troubled friendship, or a sticky situation. They don't always know the right things to say or do, but you can count on them to try their hardest to make your problems go away.
3. "What's the weather going to be like?"
Dads are like at-home weathermen. Planning to go on a trip? Text your dad. He'll probably tell you not to go because there's a 20% chance of snow or a severe thunderstorm warning, but at least you know what to expect when you decide to go anyway.
4. "What should we get Mom for [insert holiday here]?"
He's been with her long enough, he should know how to handle all the holidays by now, right?
5. "Who won the game last night?"
We all know Mom probably isn't caught up on this stuff. However, Dad will fill you in on the final score, the main highlights, player stats, and anything else you could possibly want to know about your favorite teams. Warning: If you start this conversation, it might not end anytime in the near future.
6. "I need directions."
If you need a clear, street by street explanation, do NOT text your mom. She's going to guide you by the popular landmarks. Dad will give you directions as clear as your GPS would, without the constant annoying robot voice telling you every half mile to turn left.. Dads can even guide us through places that the GPS can't (and he doesn't need to "recalculate"). Too bad he can't speed up traffic…
7. "Where's Mom?"
As much as we love our dads, there are some things that they just can't help us with. They can try their hardest, but when it comes down to it, sometimes you really just need your mom. If they can't help with the problem, at least they can help you find her.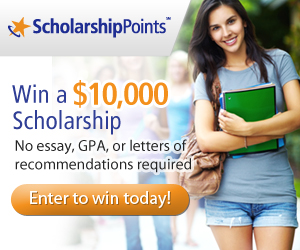 Win a $2,500 Scholarship!
Join ScholarshipPoints today and be automatically entered into our monthly $2,500 giveaway.