6 Things That Happen When You See Your Long Distance Friends
Long-distance friendships are tough. I learned this the hard way by moving halfway across the country from all my friends. In high school, I had a small group of close friends, and it was very difficult to leave them for school, but I always knew that we would be friends even if we didn't speak as much when we were apart.
I´ve been back to visit them a few times since I´ve moved away. The most surprising thing to me when I first went back to visit them was how easy it was to pick up right where we left off. It had been six months. I had changed so much in those six months, and I was, frankly, terrified that we would be so different that nothing would be the same. As the plane descended into Baton Rouge, a city of my childhood that I hold close to my heart, I started to get emotional.
The last time I had been there, I had been a different person. I had been so uncultured and sheltered compared to how I am now. I got off the plane and nervously waited for my bag. Then out of nowhere, four of my best friends came running at me and attacked me as if it had been years rather than months that we had been apart. We laughed and hugged, and headed back home.
As we were in the car chatting and laughing, I realized something: nothing had changed at all. Obviously, so much had changed, but not really. We picked up right where we left off. It was like I had never left. We talked about our high school and our other friends like we were all still there with them. It boggled my mind that we could just pick right back up where we were when I left.
The best way to describe what happens when you see your long-distance BFF is this:
1. A lot of hugging.
First, there's the initial tackling.
2. Then, there's the big hugs that you can't stop giving.
Just because you missed them.
3. You're going to post all over social media...
...just so everyone knows you've been reunited.
4. You'll take them to all your favorite places when they come to visit you.
Just so they know you do things and have friends outside of your group.
5. Don't forget to take lots of pics when you're with them.
To Instagram for the next few months while you're apart, of course.
6. Finally, you know you're going to enjoy every second...
...because being apart from them is so dang hard. So love them lots while you're with them.
It's hard to be apart from the people you love, but having such close bonds with people so far away has taught me a lot things – patience, gratitude, and loyalty. I am so thankful for my friends who live close by and the ones who live far away. Thank you for your love and support, and I can't wait until I get to see you all again.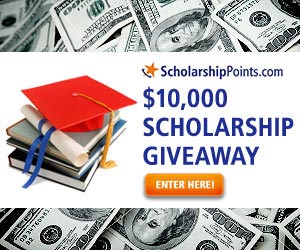 Win a $2,500 Scholarship!
Join ScholarshipPoints today and be automatically entered into our monthly $2,500 giveaway.