6 of the Best Pieces of Advice My Dad Has Ever Given Me
My dad is a hardworking, honest guy who might seem like a tough guy on the outside, but inside, he's a softie. Without him I wouldn't have grown up to be the smart, successful woman I am today.
These are just a few of the solid pieces of advice he's given me over the years, and are words that shape my outlook every day. Here's to you, Dad!
"Say forget it; write it, regret it."
Silly, but what he truly meant was watch what you're posting on the internet. For some it's hard – we all like to post about our lives and loved ones. When we spend most of our days behind a screen, it can be hard to make the distinction between what should and shouldn't be shared online, but we need to remember that some things are better left unsaid. You wouldn't want to sabotage yourself because a future employer saw a picture of you drunk at a party or hurt someone over something stupid you posted when you were mad. Be smart about what and how much you're sharing. The internet never forgets.
Respect
Respect your elders, respect your teachers, respect everyone and their ideas, even if they're different than yours. Try to see things from their point of view. It will help you learn how to be more compassionate and have a better understanding of the topic and life in general.
Don't let sexism hold you back
When I was younger, I would play with my cousins (all of them boys) and it was like I was one of the guys. I've learned how to fix my car because of my dad. As I got older, this lesson stuck with me. Anything a man can do, a woman can do as well. Thankfully, it's 2017, and we've come a long way, but sexism is still present. If there's a job field you want to go into, go for it! Don't be limited by the perception that certain jobs aren't appropriate for you because of your gender.
The value of a dollar
From the time I was very little my dad taught me how to work hard, save money, and how to stretch my dollars. In the supermarket, he would show me what the best deals were. When I received birthday money, I was expected to save. And when I could help pay my phone bill and chip in for dance classes, I did. I'm thankful, because this definitely prepared me for adulthood.
Independence
My dad taught me how to fish and how to drive, among many other valuable (and interesting) things in life. He always said to value your independence, as you won't have to rely on anyone for their approval. If you don't have your independence, you never discover who you are. Don't be afraid to push yourself to try new things or experience things alone. You'd be surprised how strong you are and how much you can learn about yourself.
Hard work pays off
Work hard, and work smart. No matter what you do, put your best foot forward. The amount of effort you put into your work is a direct reflection on you.
I'm definitely thankful for my Dad's advice. Happy Father's Day, Dad!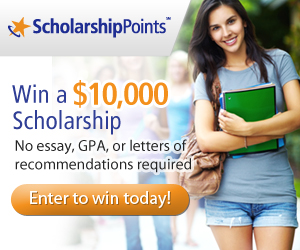 Win a $2,500 Scholarship!
Join ScholarshipPoints today and be automatically entered into our monthly $2,500 giveaway.