5 Simple Ways to Study Smarter
It's 9 p.m. on a Thursday night and you're out with your friends. You're laughing, dancing, having a good time, when suddenly it strikes you – oh (insert choice of four-letter word here), there's a test tomorrow. You rush home in a panic, questioning your life choices as you crack open a dusty textbook, rip open a package of highlighters, and pour yourself a cup of coffee. By 11 p.m., you're already three cups deep but only 30 pages in. You fall asleep at an unknown point and wake up at some godforsaken hour, but power through until the sunrise blinds your tired eyes. A second wind hits you as you make your way to class, and you congratulate yourself on a successful study session. The neon blue highlighter mark on your face? The mark of a warrior. Nothing can stop you. You're gonna kill this test.
…you got a D.
Don't let this be you. Few people are naturally great at studying, but with a few pointers, it doesn't have to be so hard.
1. Go to class.
You might blow off your 8 a.m. (or 9 a.m., or 10 a.m.…) in favor of staying in bed, but (surprise!) it's pretty hard to learn the material if you never go to class. Plus, professors often give clues in class as to what's going to be in the next test, or suggestions for the assigned reading that you won't be able to get anywhere else. College is expensive – you might as well get your money's worth and actually go to class.
2. Put away distractions.
If you don't have the willpower to not take a peek at your phone every time it buzzes, turn it off. If you know you won't be able to resist scrolling through Tumblr even though you told yourself you'd just take a quick break (yeah, just a quick break, you tell yourself an hour later) download an app to block any distractions. Apps like SelfControl for Mac block whatever sites you choose for a set amount of time. There's also software like Freedom for Windows, Mac, and Android that can be set to block you from connecting to the internet for a certain amount of time.
3. Don't cram or pull an all-nighter.
It's probably going to happen a few times throughout your college career, but don't make it a habit. It's proven not to work. If the above test prep scenario is one you're familiar with, take this as a sign that you need to get yourself a planner and start scheduling study time in advance.

4. Make your learning personal.
When flashcards and memorization techniques fail, connect the material to something you're familiar with. Maybe a certain psychological concept reminds you of a frenemy from eighth grade, or an economics theory can be connected to your favorite store's annual fall sale. Make it fun and as outrageous as you want, and you'll have a much easier time understanding and recalling information.
5. Take advantage of your resources.
College is tough, but there's also no shortage of resources around to help you out. It's not always easy to ask for help, but you don't have to take on everything by yourself. Find (or form) a study group with classmates, or schedule a time to meet with your professor or TA if you're struggling with a concept. You may be scared to talk to that professor that looks like he's about a thousand years old, but he may be more willing to help than you think. And that advisor that has an uncanny resemblance to Umbridge from Harry Potter? She's human too. In college, everyone is in the same boat – the people around you may be more willing to lend a hand than you imagine.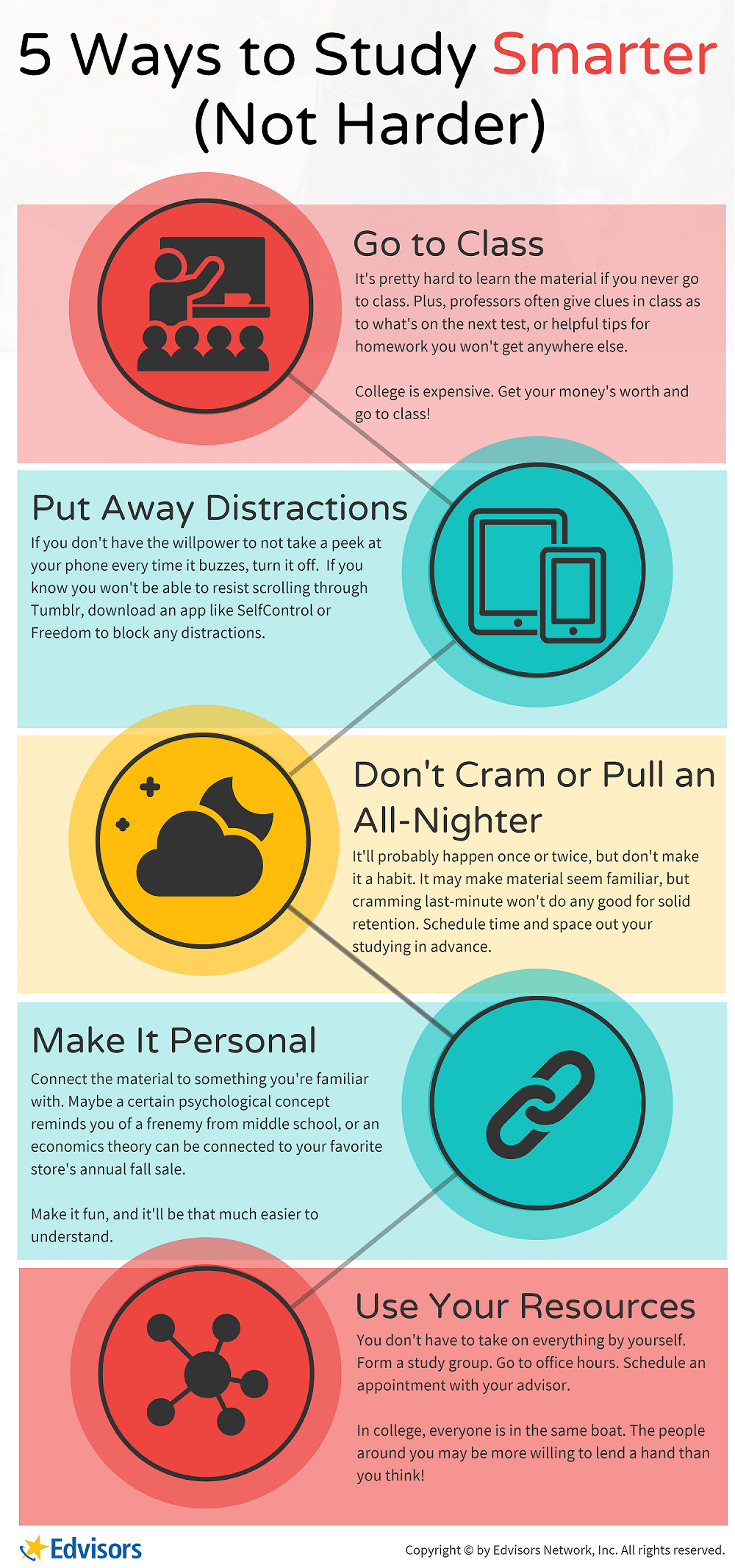 Win a $2,500 Scholarship!
Join ScholarshipPoints today and be automatically entered into our monthly $2,500 giveaway.