5 Ways to Save Money at an Out-of-State School
Going out-of-state for college can be a blessing and a curse. For some, getting away from home can be what you really need to become the independent soul you have always wanted to be. But, along with the increased independence, there is often an increase in tuition, fees, and other college costs. Some schools will make you break the bank to cross state lines, which means you may have to cut your budget to make it work. Here are a few money-saving tips to use if you're planning on attending an out-of-state school:
Utilize your meal plan.
Your meal plan is probably already paid for, so why not use it to the fullest? One of the ways I make sure I utilize my plan is to take a piece of fruit every time I leave the buffet area. Most of the time, I use the fruit for a snack, but if you save enough fruit, you can make a fruit salad for free. Planning your meal times can also help keep you full during the day, and cut down on eating out.
Search for free daytrips around campus.
Fun around campus does not always have to cost money. Local parks, free shows, and campus events can promote a lot of fun, free of charge. To cut costs, search events around campus to attend. If you go to a college near (or in) a city, most times, there is free transportation available. Bus lines around a metropolitan area can expand the search city-wide. With a little time, planning, and research, there can be a day occupied with free fun.
Two words: yard sales.
A highly overlooked aspect of saving money is to utilize yard sales. Most yard sales have furniture, and, also, important school supplies. In my experience, I have found brand new binders and index cards for incredibly cheap prices. These opportunities should not be missed to cut expenses.
Shop around.
One of the main expenses during the semester is new textbooks, but these textbooks from the bookstore can be hundreds of dollars. There are many websites that sell used textbooks for your exact class. These books will be cheaper than the campus bookstore, but they serve the same purpose. Just must make sure you order the right edition of the book according to the class you are enrolled in by double-checking ISBNs. A few of these websites include Chegg, Bigwords, and Abebooks.com.
Look at ALL financial aid options.
Make sure you exhaust all options in financial aid during your college enrollment. Seek out as many scholarship opportunities as possible. Any amount is a good amount in terms of scholarships. Also, contact the campus financial aid office or your major department to see if there are any other ways to obtain funding for your college costs. The more work you put into finding free money while in school, the less work you will have to do to repay your loans later in life.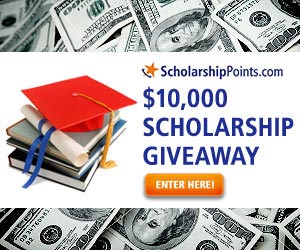 Win a $2,500 Scholarship!
Join ScholarshipPoints today and be automatically entered into our monthly $2,500 giveaway.
We think you'd also like...