5 Tips for Managing Parenthood in College
Tons of students are juggling education and parenthood. Here's five things to keep in mind to help you ace both without going insane.
1. Plan, plan, plan
Make sure that before embarking on a college career, you've weighed out all of the costs. Make sure you know exactly what everything will cost, down to textbooks, insurance, and registration or class fees. Take into account how this will affect your family life, especially if you have to cut back on working or stop altogether. Also, make sure that your school schedule will still allow you to be a part of caring for the educational needs of your child or children. You don't want to be so concerned with gaining higher education for yourself, that you neglect your child's educational needs.
2. A good support system is everything
You'll need a great - and most importantly, reliable - support system. As a parent, you won't be able to concentrate unless you feel your childcare is reliable and trustworthy. You need to have a clear mind, and unnecessary worry can do a lot of damage to a successful college experience.
3. Time management is a must
There's no winging it when it comes to making time to study and spending time with your family. This is why creating a schedule is a must! It may sound silly, but scheduling your family time helps your children know when you will be working on school, and when they can expect to spend time with you. This allows you to prioritize your education and still lets your family see how important they are. . Going to college is a big thing to take on, but you have to have time for the most important people in your life, too!
4. Remember you are human
Everyone needs some me time every once in a while. After a long day at school, the only thing you want to do is spend time with your child – but remember that if you neglect your own needs, there's no way you can handle the weighty responsibilities of being a college student and a parent. If you wear yourself down too much, you won't have the energy to be a good student or a good parent!
5. Don't give up
You've already decided that you need to pursue higher education, and your child was probably your biggest motivation to do so. Remember why you started, and when it gets hard, remember that you're not doing this for yourself, but ultimately for your family. Also remember that no matter how difficult things get, no matter how many obstacles stand in your way, and no matter how tired you get, Do. Not. Give. Up. The end is always just around the corner. And, most importantly, you serve as an example for your children. The last thing you would ever want to see is your child give up on themselves and stop before reaching their goals. You are the person they look to as an example for them. Make them proud!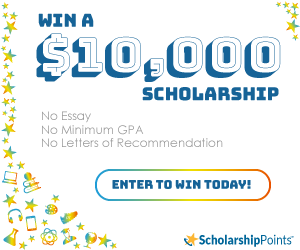 Win a $2,500 Scholarship!
Join ScholarshipPoints today and be automatically entered into our monthly $2,500 giveaway.