5 Things You Can Do Right Now to Prepare for College Applications
Maybe you're just starting high school, or maybe you're just about to embark on your senior year before college. Either way, there are tons of things you can do now to prepare for the college application process — so, if you're eager to jump right in, here are some ways to get started right now:
1. Research requirements
Each school has a different application structure, with different expectations for incoming students.
Just to apply to some schools, there will be a list of courses you must have completed in high school. Generally, this involves math, English, and other basic courses, but if you're looking for a specific program, there may be other requirements, like music or a foreign language. The earlier you recognize this, the better — that way, you can be sure you take the required courses you need to complete!
Applications can vary, as well. Some schools may prioritize letters of recommendation, while others want only a lengthy application essay. To prepare, list the requirements for each school in a spreadsheet or notebook, so you can check them off as you go when you're finally ready to apply.
2. Decide what academic program(s) you are most interested in
The college application process is different for the many programs that each school offers. For instance, music majors may have to complete an audition, while those applying for a rigorous science degree may need an interview. You'll have to do a little more scouring on each school's website for requirements like these, but they can be vital for your success — so, once you decide on what programs you're interested in, make sure you mark down their specific requirements, too!
It is important to note that, sometimes, your grades and test scores may get you accepted into the college, but if your interview or audition isn't what the school was looking for, you may not be accepted into the specific program you applied for. If that is the case, you'll have to decide whether you want to attend the school without being part of the program you wanted.
3. Practice for the SAT and/or ACT
There are dozens of free practice tests available for all of these standardized tests, so use them to your advantage. Many high schools offer practice exams, study sessions, or even courses designed to help students improve their scores on these tests. If you haven't taken the tests yet, it's to your advantage to start preparing early — you can take them as many times as you please, and many schools will take your highest score.
4. Prepare for personal essays
Writing about yourself without sounding conceited is a lot harder than you think — and it takes practice. You can find past application essay topics and prompts online, so start by working on these, even if you will never turn them in. They may give you ideas for your future essays, and a little extra writing practice never hurts!
5. Create an accomplishments resume by making a list of extracurriculars or other resume-boosters
Many college applications will ask you to list the clubs and organizations you were involved with in high school, so instead of trying to figure it out as you go, make a list in advance. On your list, also include your accomplishments and awards that you earned in each activity, as they may ask about these, too.
The college application process can be stressful, but it doesn't have to be. With ample preparation, you can be good to go, so all you have to do when the time comes to apply is copy and paste, and click "Send."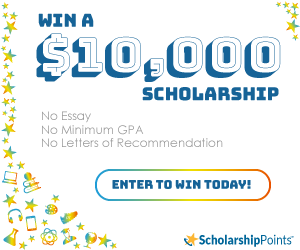 Win a $2,500 Scholarship!
Join ScholarshipPoints today and be automatically entered into our monthly $2,500 giveaway.